Latest Updates from Dogfart (Page 48)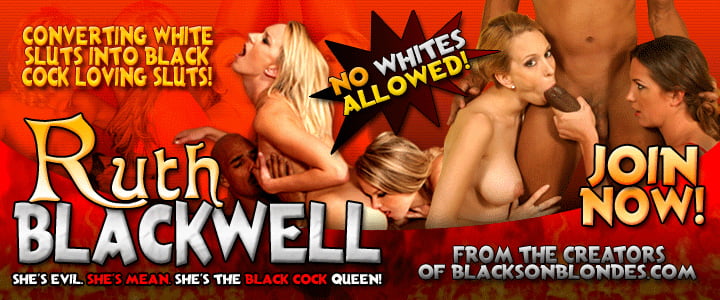 Charlie Mac is here again. I really love his cock, but I have trouble talking to him because I don't understand him when he speaks Ebonics. LOL Charlie had some surprises for me. WHile I was fucking him, he had one of his buddies come to jizz in my mouth, then another friend, and another & another & anoteer. I lost track of how many loads I took in my mouth, but it was a LOT. Thank you Charlie! You're so sweet.
A good/obedient cuckold is difficult to acquire. Marley's cuck has been denying his household duties while her master, Shane Diesel, has been out of town on a job. The dishes are a mess, and that's just one of many on a laundry list of shit he's been neglecting. Retribution comes in the form on being made to watch Marley getting fucked by an extremely angry Shane Diesel. The mask he's wearing can not hide the shame he feels as his Goddess feels a big black cock stabbing her throat. Shane's wrath knows no bounds as he and Marley take turns humiliating the pathetic cuckold as they use the bed to their advantage. Marley's pussy gets stretched out wider than the hole in her cuckold's soul....and we're just getting started. The term "size comparison" takes a whole new meaning when Marley's shown the difference between two men: one loser and the other a real master of swinging around that massive black cock. The cuckold's ordeal continues as his tiny pork link remains caged in a chastity device- feel bad for him yet? Marley's pussy has a vice-like grip around Shane's big black cock until it deposits its contents all over the cuckold's mask. Romance has never been more apparent.
Last year Valentina Nappi visited an adult bookstore in search for random black cock. We're now back with this Italian import and it seems like she didn't quite quench her thirst last time with random black cock. Redemption comes in the form of the big-tittied European slut and a recent visit to a bathroom where filthiness is as evident as her slutiness. Valentina's language barrier matters not when her second trip to a gloryhole results in her mouth and pussy feeling the wrath of a stranger's massive black appendage. Those massive white tits nestle against the wall as her mouth continues to suck on a faceless black dick. The fun only ends in this public restroom when Valentina's face, much like her passport, is stamped with the creamy goodness of black jizz.