Latest Updates from Dogfart (Page 48)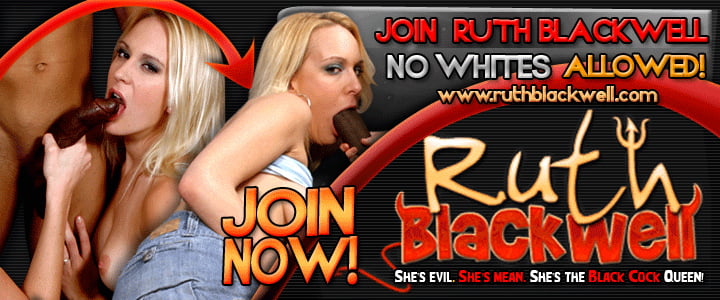 Warning: The following update is beyond fucked up. We begin our fun with Tiffany Kohl doing some recruiting for her father's basketball team. Isiah, the top baller of the city, is being looked at by other colleges, and Tiffany's father would certainly reach a God-like status if he could convince Isiah to play for him. How can he wrangle a future NBA player? The answer is simple--Tiffany Kohl's the bait for the black man's love of white girls. Tiffany's dad makes the introduction and it's not too long before daddy's girl earns her way into his will by sucking and fucking Isiah....right in front of him! Isiah's big black cock turns Mr. Kohl's daughter's pussy into a cavern for dark meat. Mr. Kohl's little girl goes the extra mile by getting fucked all over the place until Isiah's black gravy covers her face. Who's happier than her? That can only be her dad who has now acquired his star player.....thanks to his angel's white pussy.
Allie James and Rob Piper are discussing her previous encounters on this site. Allie's first time saw her getting a messy cream pie from Jack Napier. Allie's return trip saw her get her ass stretched by Mandingo. Rob's interest has him asking how she can take it up to the next level. Her reply of how many, ahem, "niggas" he can round up is all that's needed to green light this interracial gang bang of Allie James. We take things inside where Moe, Isiah, Rob and Wesley do all they can to make Allie's third visit one for the record books. First Allie is surrounded by 360 degrees of menacing black cock. The filthy blonde works her oral skills over on over four feet of black power. The tits on Allie are as amazing as her ability to suck every black cock in the vicinity. We switch gears a bit when the crew turn their attention to the wet pussy and tight ass of Allie James. The brothas give her the ultimate double penetration as her mouth continues to suck big, black dick. Allie's induction into the Interracial Hall of Fame sees her become air tight until it's time to unleash every drop of black sauce these guys can dish out.
It's hard to believe that in 2014 there's still racism and those who would rather not associate with "those people". Donald owns a basketball team and his girlfriend and wife are about to set up a trap for him. You see, Donald's been blowing his money on his girlfriend while his loving wife has been working hard and staying by his side. V. and Rochelle have Donald's star player, Chris, come over to fuck his big black cock as he watches in absolute horror. On one end his wife and girlfriend are associating with a black guy,his star player. On the other end he's playing with his tiny pecker, as for the first time in his life he has no control over the situation. Donald's blood pressure rises as his wife and girlfriend fuck his BLACK money machine until they both share the black load. Donald, on the other hand, pulls his puny pecker(wood) until he erupts all over himself. The ladies, needless to say, are of no help to him at this point further.