Latest updates featuring Chanel Preston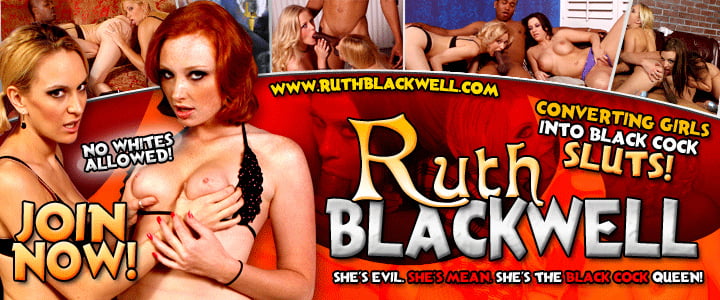 The strip clubs security must have taken the evening off. Chanel Preston's set began innocently, but evolved into something completely different. Chanel's got the body of a dancer/stripper and the face of an angel. However, there's something to be said about a dancer that goes the extra mile. Chanel, without a doubt, is this club's highest earner and she's now confronted with an issue: To suck or not to fuck an anonymous black cock that's coming via the glory hole wall. A moment if hesitation occurs right before she gags and spits on that huge anonymous black cock. The lack of security and management turns a "quickie" into a prolonged blowjob that morphs into raw fucking. Chanel Preston's tits shake and quiver as that anonymous black patron's big black cock does its damage to her snatch. The constant friction leaves that black stranger with no other option than to detonate its contents all over Chanel. Hopefully this club doesn't serve food,or else the health department would shut them down for shit like this.
Chad Diamond was born to be a cuckold. We begin things with Chad attempting to cock block Rico Strong from fucking Chanel Preston....#fail. Chad gets fooled into racing with Rico and his attention deficit disorder leads Rico into taking Chanel Preston back to the crib. Chad follows behind but not before walking in on Chanel sucking on Rico's big black cock. Chanel, always the dominant one in the situation, ridicules Chad's shortcoming and praises the huge slab of beef Rico carries around. The clumsy cuckold can only watch as Chanel's womanly needs are met with a huge black cock. Chanel Preston sucks on Rico as the cuckold can only touch his own pathetic excuse for a dick. Chanel continues the visual taunting by getting completely fucked- and fucked hard-by every inch of black meat that's attached to Rico. Chanel's pussy only gets a rest when Chanel kisses the cuckold with black juice still coming from her lips. Rico keeps beating that white pussy while the wimpy white boy takes mental notes on how to please a woman. The curtain call to the cuckold's humiliation comes when Chanel feeds him his own nut sauce. A mentally thrashed cuckold AND a potentially pregnant white bitch. We killed two birds with one stone....as usual.
Chanel Preston. What a piece of ass. But before I talk about that, let's talk about her accomplishments: XBIZ's, CAVR's and XCritic's Starlet of the Year; multiple AVN noms...the list goes on and on. Wonder when an IR scene will see the light of day? Wonder no more! Today Chanel Preston takes on Mandigo for what could be the best scene of her career. Did I mention it's an anal scene, too? That's right. Chanel Preston takes Mandigo and his 13 inch rod right up her ass. But scenes like this aren't really a surprise for the members of Blacks on Blondes. In fact, they're used to this kind of behavior.