Latest 'Big Tits' updates from Dogfart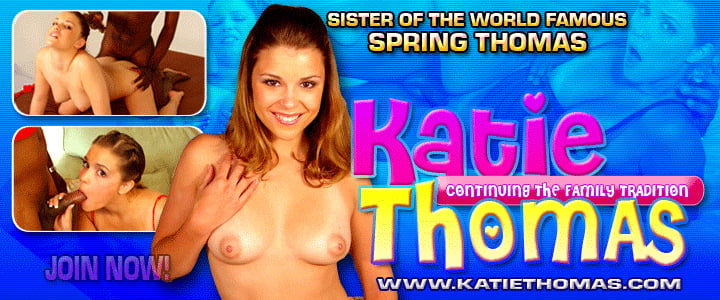 In case you didn't know, Slim Poke has a side-hustle: he's designing 'naughty' tees for women. Naughty in the sense Slim's designs have simple, short descriptions on them: 'hoe' and 'slut' and 'yes daddy!', for example. Slim hired a beautiful model -- Melissa Lynn -- for a photograph session. Slim and his two partners -- Jax and Rob -- need to get a print catalogue out, ASAP! But 'ASAP' is gonna have to wait a little longer, because in the middle of trying on Slim's shirts in his office, Melissa ends up naked, on her knees, servicing the biggest dicks she's ever seen in her life! What a mouthful! So you can image what those big, black cocks did to Melissa's sweet, little white pussy. Talk about being stretched to the max! Melissa's pretty, hairless snatch is never going to be the same! After the fellahs took a few turns, it was time to drop their loads. Massive loads. Rob was so turned on he dumped two big ones, splattering Melissa's face and tits. Now let's get back to making t-shirts, guys!!!
Every since Syren de Mer married Jay's dad, things haven't been the same for Jay. The minute he turned 18, Syren -- or 'mommy', as Jay refers to his step-mom -- started walking around the house in just her bra and panties. Then, she didn't wear anything at all. Jay thought, 'why not do the same?', and soon Jay and 'Mommy' were walking around naked whenever Jay's dad left. Soon, Jay and 'Mommy' were watching porn together. 'But hey! I've never touched her!' This is what Jay says whenever he tells his buddies about the relationship he has with his step-mom. After Jay tells his buddies that, he'll usually invite them over to fuck him step-mom. You heard right. Jay and 'Mommy' made that decision together one night after watching some hot porno together! So don't you know 'Mommy' is going to be super excited when Jay drops by the hair salon she owns with three of his new friends! 'Mommy' is even more excited when she discovers they're three black football players from the college Jay attends! So join Jay in watching his 'Mommy' take three well-endowed football players in all three holes!! Oh yea -- Jay gets a reward at the end, too!!
Candace Dare is a partner in a drinking establishment. A bar. Since she's an owner, there's things Candace has to do that an owner normally doesn't have to do...but when an employee doesn't show up for work, well -- you get it. There's Candace, a couple hours before the bar is to open, doing tasks no owner wants to do: cleaning the bar; washing glasses; and stocking the coolers with ice. Which is when one of the regulars walks in the bar. It's pouring rain outside, and since Candace forget to lock the place up as she walked in earlier that day, the door was open. One dude turned into five dudes turned into ten dudes turned into almost fifteen dudes! Candace didn't want to make them stand in the rain, and here's something you didn't know: Candace Dare has a ongoing sexual fantasy in which this very thing happens: her bar is full of horny studs, and she has to get them off! Do I really need to tell you what happens next? Or the fact Candace was so horny after dropping to he knees to service all these men, she decided to offer up her sweet pussy for a 'quickie'?! All the studs 'edge' themselves before dropping big loads down her throat for Candace to swallow! I mean, after all, if they all blew a nut on her face, how could Candace open the bar after they were all done?!