Latest 'Facial' updates from Dogfart


Whenever you swing by Prince Yashua's crib, it's always poppin'! Most of the time Prince is entertaining white girls who are there to party and get pounded, but today he's having a serious talk with a dude calling himself Pressure. You see, Pressure wants 'in the game'. Pressure wants to be Prince's protege, and this is something Prince doesn't take lightly. Prince doesn't fuck around with just any dude...but he sees good things with Pressure. Which is just about the time barely-legal slut April Aniston, one of the babes who just happens to being hanging out, skips into Prince's bedroom. 'You guys wanna fuck?' That's all that needs to be said. In seconds, Prince is pulling a butt plug from April's ripe asshole while Pressure stuffs his oversized dong into her barely-legal, very-eager mouth. All holes are open today, and the fellahs take turns banging April out to the point her asshole won't close up all the way! Barley-legal gapes go along with barely-legal creampies (but is April on birth control?) and barely-legal facials! Looks like Pressure might be around a while!!
It's a rainy Saturday, and what's a gal like Michele James gonna do with her two 'fuck buddies'? They're all doing what most people do these days -- eyes glued to cell phones. Except Rob, who's got his eyes glued to his lap top. Sure enough, he's playing some porno, which Ricky wants to check out. So does Michele! Almost immediately, Michele's saying things like 'my tits look as good as hers!' and 'I can suck cock better than that!' This prompts super-pervert Rob to pull out his camera...and his over-sized dick! 'You guys better not share this on the internet!' Michele exclaims, before wrapping her mouth around Rob's big cock the best she can. Rob's a 'POV' expert, and sure enough, Ricky is too! They're gonna fuck Michele's warm, wet mouth and eat her lovely snatch and fuck her silly -- capturing all the action POV style! Ricky holds the camera as Rob creampies Michele's beautiful pussy; Ricky then drops his load all over Michele's face...and her glasses! See how a camera can turn a rainy day into a Fun Day!?!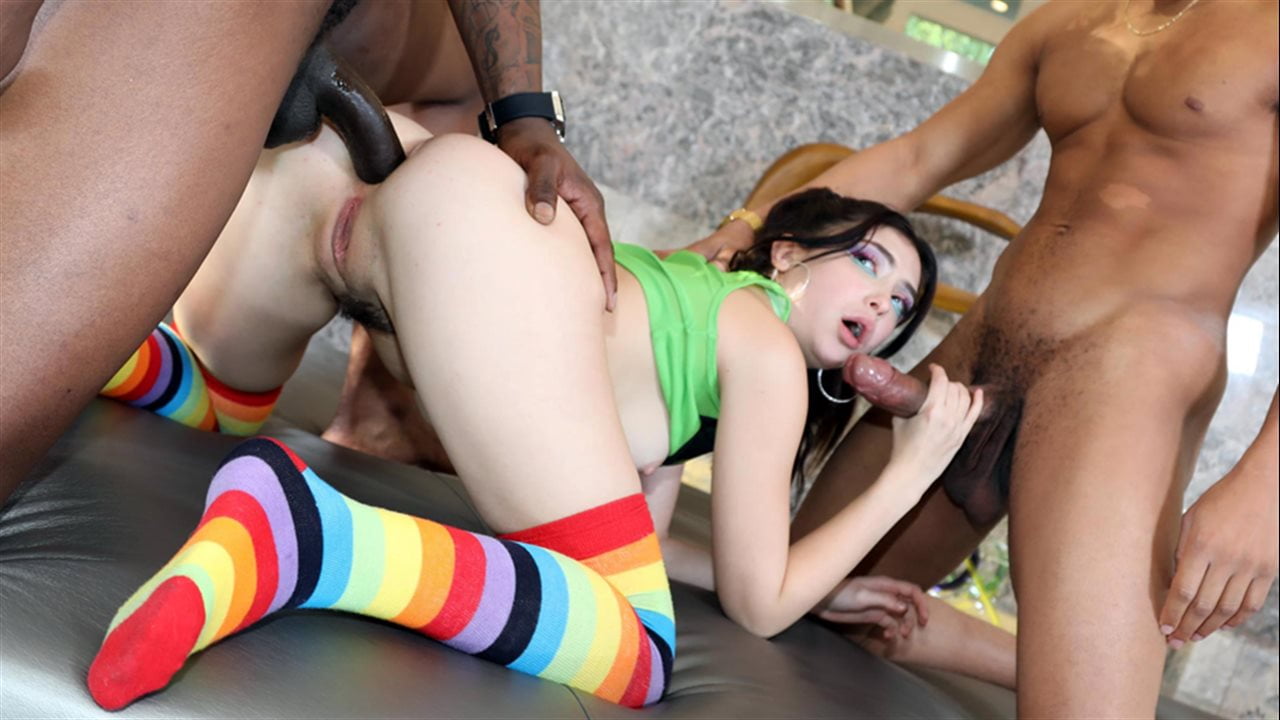 Jane Wilde is a 'spinner'. If you aren't familiar with the term, here's a quick definition: 'a woman small enough she can be spun by a man while on top during sex'. Jane Wilde isn't much taller than 5 feet, and, soaking wet, she probably weighs 90 pounds. Jane also loves them big -- her men...and their cocks! Dogfart threw two of the biggest her way, and watch how Jane handles them both! No hole is left unattended! In fact, once these two 'Big Boys' have their way with 'Tiny Jane', her holes are never going to be the same again! Just take a look at her gaping asshole, if you don't believe us! Jane's never been with two men before on a professional porn set, and today she does her best to coax a copious amount of cum from their balls! She does just that, exhausting both herself and her two men...just after their two enormous pop shots cover Jane's face and drop down her beautiful chest. And whatever didn't get on her face (it was a lot, too) Jane swallowed...before crawling off to recover!