Latest Updates from Dogfart (Page 64)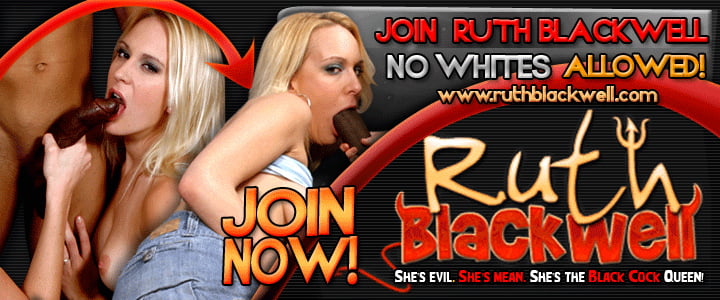 My latest boyfriend, Ace is a nice guy and he's got a gigantic black dick, which I love, but we just need to spice up our love life a bit. So last night I took him to the west side of town to a place I've been a few times. It's a private XXX show store that has private video rooms and one of them has a gloryhole. At first Ace didn't like that some other giant black dick poked thru the hole since it was just a random black man, but he eventually warmed up to the fact that I'm a ghetto white-trash trailer park bitch who just just wants black dick in as many holes as possible.
So.... I am interviewing new bruthas for my website. I film all my interviews just in case something good happens. And in this case it did! This gang banger Ice Cold comes in. He looks cute, and he's black so that's 2 points for him. But in the interview he says white pussy is ok. Well, obviously he hasn't had this white pussy. So to be on the site, you have to pack 8 inches. So I asked him what he's packing. He told me to take a look, I did, and was pleasantly surprised. Ice Cold has got at least 12" under his shorts. And I just start sucking it right then and there. One thing leads to another and before I know it, a whole new scene is formed.
Hi fella's, how are you doing this week? I'm a little sad cuz one of my turtles has parasites I think...I'm not sure, I have an appointment to take him to the turtle doctor tomorrow. Anyways, enough about me and my turtle, I know all you dirty little pervs want to hear about my naughty doings with black men and have I got a REALLY naughty update this week. (he he) My friend Max stops over and gives me EXACTLY what I needed...his huge and beautiful black penis which I could not get enough of...just watch this scene and you will know EXACTLY what I mean...bye, see you all next week and I'll let you know what the turtle doctor says about my turtle. XOXO...Katie