Latest Updates from Dogfart (Page 60)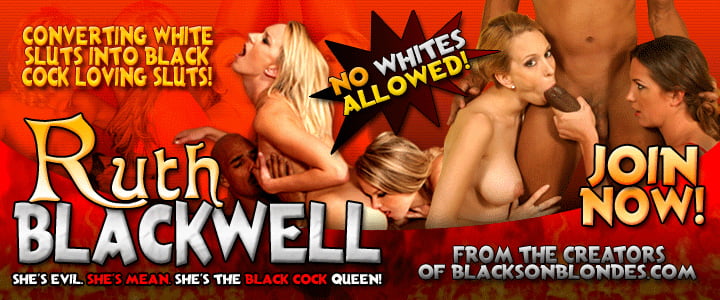 The apt named Sharon Wild is most definitely WILD! This tall European blonde knows what she wants and it's swinging between the legs of Billy, who will let her have all she wants, but first he has to indulge his fetish...writing on naked girls with his magic marker. Then it's Sharon's time to shine as she unleashes a tongue that puts an anteater to shame and works his coal black tubesteak into a lather. He fucks her pretty face repeatedly and she sucks his sack while he jerks off into her mouth. She does an awesome job of demonstrating how she loves to eat niggah cum to finish out this oral extravaganza!
Leah is a tiny nineteen year old black dick loving whore and today she's here to demonstrate how much she loves to suck off a big black tubesteak. She starts the scene already marked up to show her black dick preferences, and when the dark meat comes out, Leah springs into action. She sucks dick with all the enthusiasm of a hot teen. She doesn't just want the dick to suck, she also wants the gravy, so she finishes by jacking him off into her open mouth, and gulping it down.
Keiko is from the bible belt of Florida, where a sure ticket straight to hell for a young white girl was to drop to her knees and suck off a big black dick! As she says..."I don't give a shit about those racist motherfuckers, now where's my big black cock?" She definitely gets her wish as a young black dude unleashes his black python, and it's a monster horsecock the likes of which Keiko has never before witnessed. She has a ball stuffing that huge monster down her throat, and lets him fuck her pretty mouth till he's ready to feed her his creamy load. She showed them!