Latest Updates from 'Black Meat White Feet' at Dogfart (Page 2)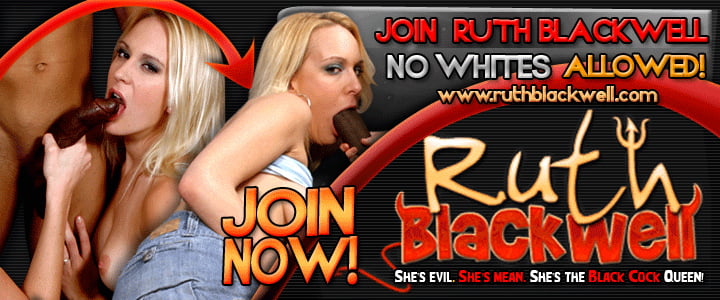 Sometimes I have to give my white pussy a break from all that black cock. My feet? Well, that's another story and you're about to see what I do with them. There are few things better than stroking a big black cock with my freshly pedicured feet. My size 6 shoes keep my beautiful feet from getting too dirty, and they need to be clean for my black bull. My worthless boyfriend's hard earned money went on my shoes only for them to be removed so my little piggies could get played with. I kept my feet rubbing that huge black cock and I fought the temptation to stick it right inside my dripping wet pussy. The best part of it all? Well, that would have to be when the object of my feet worship blew his black gunk all over my feet and toes.I barely cleaned my feet off simply because I wanted to jam them down my boyfriend's throat when I got home. I hope he can't tell that I've been a cheating little whore.
Sniff my feet, worship them, lick them and do what ever I want, when I want. There's something I love to do when giving my pussy a rest from all the big black cocks I have in my life: that's giving an interracial footjob. First, I put my toes in that black guy's mouth right before wrapping them around his huge cock. My arches fit snugly around his huge black cock and he fucks them like my pussy. I love bending over and giving him a glimpse of my ass while working over his black cock. The sensation of that black cock pulsating because of my feet just gets me wetter and wetter. The only thing I need is his nut juice all over my toes so I can have sticky, squishy feet.
Warning: First ever interracial scene for Nikki Blake! Nikki Blake's a health nut and her feet are about to become a casualty of constant running. Nikki's ankle gets injured and Brian Pumper offers his help to the damsel in distress. The bomb gets dropped that Nikki feigned the injury just to get Brian close to her ten little piggies. Brian's big black cock gets hard at the veryscound of Nikki's confession and the games begin. Brian , aka "The Pervert", smells the stench coming from her shoes right before worshiping her gorgeous, sweaty feet. Athlete's foot be damned! Pumper's going to suck on her toes right before fucking those feet. Nikki's first time with a black cock sees her showing her ass to Brian while her feet go into overtime. Nikki Blake continues to tease her first black cock right before it glazes her toes with its creamy goodness.