Latest updates featuring Rylie Richman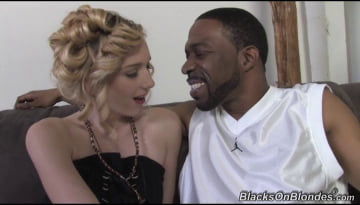 21st November
- We get phone calls 24/7 from white girls wanting to get their first taste of black cock. However, some have already fucked on camera before so imagine
our relief when Rylie Richman phoned us. She told us that she had never taken a black cock before nor had she showed off her body as cameras rolled. Rylie was about to kill two birds with one stone. Rylie Richman is a true friend to the black man. Much like a spotter in a gym, Rylie is there to make sure others succeed. Today, Rylie is about to give a helping hand, mouth and pussy to a returning black bull for the benefit of all. After a self-imposed exile, a returning black meat slinger has some doubt as to whether he can make a triumphant return. Rylie, not one to miss an opportunity, offers herself up to ensure his success. Rylie hits the floor to worship the black hose coming from the jeans of her new fuck buddy. Some girls were born to be black cock sluts and Rylie is that interracial sex queen. Rylie spreads her wet vaginal lips in order to accommodate the black salami that's hanging only inches from the floor. The screams and moans coming from her lungs are proof that this white jizz dumpster is loving every minute of this fiasco. She slides down his shiny black cock like a white girl possessed and the slapping of his nuts against her slit is music to the ears. The cherry on top comes when Rylie's afternoon snack comes in the form of soul sauce. Every drop of goo slowly makes its way past her tonsils and into her stomach. This newest addition to blacksonblondes.com is now 8 ounces heavier.
...Read More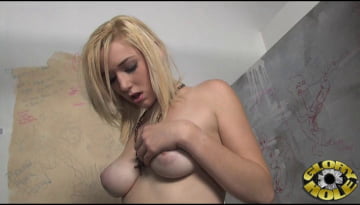 5th January
- Rylie Richman is another Catholic School girl gone wrong. Today, her sin is having interracial sex in public just a hop,skip and a jump from where she
used to kneel down and pray. Rylie's going to relive part of those memories as she kneels down before the Altar of black cock. Rylie Richman's first time with black cock will consist of a hole in the wall of a bathroom that holy water couldn't cleanse. Her gigantic mams, her tongue ring and flowing blonde hair make up this white girl that now has a black cock making its way into her stomach. Rylie's puffy lips engulf a meaty monster of biblical proportions as her snatch gets wet from anticipation. Rylie's salvation comes in the form of a black dick that's entering her pussy as she gets fucked 8 ways till' Sunday.Her first dip into the interracial sex pool comes full circle when her mouth gets blessed with black goo.
...Read More