Latest updates featuring Julie Cash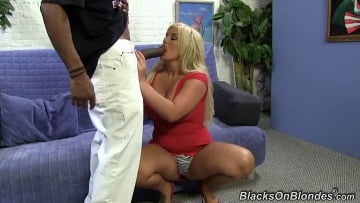 21st November
- She's blonde. She has huge tits. She has an ass for days. She's Julie Cash and she's searching high and low for big, black cock. It just so happens th
at Jack Napier has been hanging around and she's set her sights on the bulge in his pants. Julie brings him inside and it's inevitable that her full lips find themselves sucking on Jack's monster black cock. Julie's fat jugs play host to Jack's mighty beef stick as he slides his third leg in between those massive mammaries. The saliva coming from her mouth is slowly sliding down into her pussy-which makes for awesome, natural lubricant. Julie's going to need all the help she can get as Jack's huge, black cock slides deep inside her cheeks to the point her eyes are rolling into the back of her head. Julie Cash' search for interracial sex was well worth it seeing as how her body is now housing one of the biggest black cocks around. the tip of Jack's cock must , at some point, be touching Julie's molars as he bangs her into submission from behind. In fact, there's really no position off limits as these two engage in the most intense of interracial sex. Julie's perfect ample tits bounce in all directions while Jack's big, black cock completely levels her insides to the point she's screaming her lungs out. Julie's tight(well, used to be tight)pussy continues to squeeze Jack's massive schlong until he can't contain himself and makes a mess of her face. Julie will continue to walk around looking for black cock. However, she's going to have to wear an ice pack in her panties after this encounter.
...Read More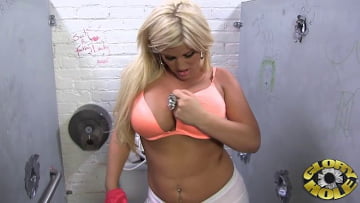 21st November
- It's been too long since this gas station has seen a customer the likes of Julie Cash. The cashier jockey must have lost his mind when Julie Cash and
her enormous tits came to his place of business. However, the only nozzle that would be in her cards would eventually be a big, black cock. Julie's eyes immediately lock in on the graffiti that has plagued this stall for quite a while. The hole in the wall is soon going to change her world. First, Julie's going to use the privacy of the stall to gush out some mind-blowing orgasms, courtesy of her freshly manicured hands. Aparently the gash station attendant tipped off a black customer as to who was currently in the restroom. Julie Cash soon comes to realize the purpose of the gloryhole and an anonymous black cock risks injury in order to get its rocks off. Julie's breathing gets heavier as she drops to her knees to inspect this big, black dick. That salivating mouth quickly sucks on the black stranger's massive appendage as her free hands really get her juices flowing. What's next on the menu? Julie Cash makes every second count by dropping that ass against the wall until her womanly parts are completely penetrated by a huge black cock. Julie's hands pinch her tits as she gets fucked doggy style by the luckiest wall to ever get erected. The only thing left for Julie to do is drain as much seminal fluid as that black cock can spray out.
...Read More