Latest updates featuring Alysa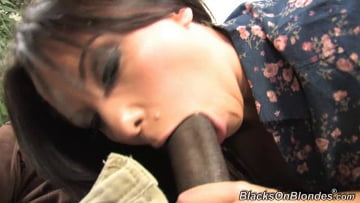 21st November
- We're thanking our lucky stars that nieve tourists like Alysa exist in 2011. Alysa came to America from Russia to seek out opportunity and fame. The t
hing is Alysa is also a huge slut for big, black cock and needs her ass and pussy stuffed on a daily basis. Today, Alysa's urges have been put on hold and she's in Hollywood looking for Wesley Snipes. Unfortunately for Alysa she's referring to him as "Pipes" and the communication breakdown results in Rico Strong bringing her back to his place where Wesley Pipes is hanging out. Aylsa is initially embarrassed at the mixup but her urges, which, were put on hold, come floating back to the surface and she's at the mercy of two feet of black cock. Alysa's mouth isn't void of big, black cock for too long as both Wesley and Rico turn her head back and forth as if she's at a tennis match. Alysa's tongue coats both black cocks and it's only a matter of time before both thugs take turns slamming into that pussy and ass. Alysa's Russian accent is easy to understand when she's yelling at both guys to make her holes stretched beyond recognition. We don't know how to say "Interracial anal sex" in Russian but that doesn't stop Alysa from going balls deep on each black cock until her colon nearly collapses from the onslaught. This Russian beauty can't get enoguh and it's evident when she gets a double helping of black cock via a double penetration. Rico and Wesley piston in and out of her moist caverns as she completely forgets as to why she was originally in Hollywood. Alysa's body becomes a pin cushion for both black cocks and she couldn't be a happier Eastern European black cock slut. That gorgeous white face of hers gets bombarded by two thick, creamy black loads and it's something she could never have gotten in her homeland. Welcome to L.A. Welcome to the jungle.
...Read More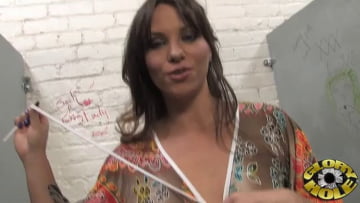 21st November
- Alysa a Russian girl with one thing on her mind: finding out if Americans are as sexually liberated as believed. Alysa did an online search of crazy t
hings to do in L.A and found a message board where white girls rave about a place so vile, the cops don't even bother patrolling the area. Alysa had to see if the rumors were true and made the pilgrimage to this public restroom. The holes in the wall were the first indication that this place was completely rank. The graffiti? Apparently the lack of proper hygiene isn't an issue here and Alysa's eyes pop out of their sockets when an anonymous black cock enters the fray. The massive black appendage coming from the wall is enough to make her salivate. Alysa's knees touch the filthy floor as she takes her temperature with that big, black cock. Alysa's tongue runs out of saliva as the anonymous black man gets his dick coated from base to tip. Alysa doesn't mind that her first time with a black man is under unusual circumstances. The only thing that concerns her is if her Russian pussy can withstand every inch of big, black cock. The only way to test the stability of the wall....and of her snatch, is to ride the wall until the tip of that black cocks hits her lungs. Alysa rides the glory hole wall as her ass leaves sweaty imprints on the wall. Each passing second renders her useless for any potential white guys since she's getting stretched apart.Does Alysa seem to mind? Fuck no. Alysa plans on getting drunk off black cum,not vodka, and sucks and jerks the hung black stranger until she's been painted like a Jackson Pollock.
...Read More