Latest updates featuring Ally Style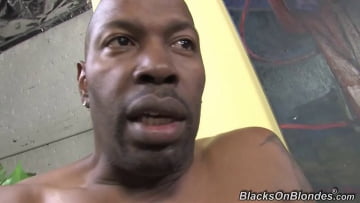 21st November
- With some cash to spare Wesley Pipes and Lucas Stone have brought the strip club to them. Ally Style's body movement is enough to get any guy to empty
his bank account and both guys are in complete awe. The bulls have been teased long enough and both guys tear into Ally like a piece of raw meat. Ally Style would normally scream while having a black cock in her pussy but another one is currently taking up occupancy in her mouth. Ally's dick draining ability is put to the test as two feet of black meat take turns expanding her windpipe at any given time. That apple bottom booty gets plenty of attention from her white customers but only big, black cocks get to go that extra mile. Ally's ass jiggles as her pussy gets absolutely rocked while her mouth muffles any screams of complete pleasure. We wouldn't be happy with just a massacre of white pussy so we're having both black swordsmen dish out a double penetration. The piston-like action of black cocks making mince meat out of her reproductive and digestive system is truly a thing of beauty. Ally Styles gapes as wide as a basketball hoop and then it's back to more ass slamming/pussy pounding mayhem that you've come to expect. Ally Styles wouldn't be a happy black cock slut until her ass and pussy could milk gallons of black sauce deep inside her. The utter mess left behind is further proof that Ally's a dancer that goes that extra mile. There's no way Ally can put her panties back on and go back to the club but that's her problem now.
...Read More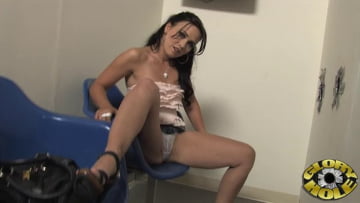 21st November
- Ally Style has escaped the cruel summer for an indoor experience like none other. The unforgiving Sun has awoken the inner freak of Ally Style. If you
told her a week ago that her first interracial sex experience would be in a glory hole then she'd laugh in your face. However, things change but whores stay the same. Ally, once inside, takes a gander at the interracial porn on display and that's all the incentive she needs to treat her body to her adventurous fingers. Ally's ordeal only begins when an anonymous thug joins the fray and nearly shocks her into a coma. Ally, a true whore, decides against warning the police and uses her mouth to keep the black ghost at full attention. Ally's mouth opens as wide as possible in order to slide that black slab of pork right down her narrow throat. The saliva that she's spitting back up only serves to make it easier for her to ride that black monster in due time. Ally's head gets palmed like a basketball by one of the holes and she's soon getting face fucked by a hung wall. Ally's pussy gets served up and she's sliding up and down the anonymous black pole. The only thing left for Ally to do is squeeze that black cock like a tube of toothpaste until there's no more ghetto sauce to be had.
...Read More