Latest updates featuring Alana Luv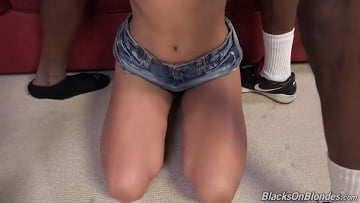 8th February
- It's been about a year since you last saw Alana Luv on our network. The fan base she's seen grow can only mean that her scene for InterracialPickups.c
om was a smashing success....and we continue to listen to our fans. Alana's back , but wants one more black cock for her interracial resume. And this is where Wesley Pipes and Moe comes in. Alana's deep desire to get dp'd have brought her back to where she first gamed notoriety--Dogfart. Wesley and Moe waste no time in bringing the New York slut to her knees for a double blow job. The eager beaver sucks down as much black meat as her gag reflexes will allow. However, her ass and pussy are the main course after her mouth just got things going in the right direction. Both black swordsmen take turns pumping her full of black dick(s). Alana's asshole opens for business when the interracial dp goes off without a hitch. Alana's return to the West side sees her get slammed until her face welcomes two shotgun blasts of thug juice. If her first Dogfart scene made her famous, this one will make her immortal.
...Read More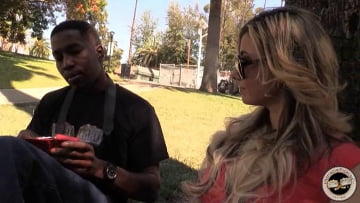 24th June
- Spoiler Alert: This is Alana Luv's first time ever getting a black cock inside her mouth or pussy. Alana Luv's trip from the east coast has seen its s
hare of misery-no modeling gigs, a low bank account and more. Alana's in the park as she talks to her fiance on the phone about her inability to land any modeling work. At that moment Isiah is acting like a voyeur by snapping shots of her on the phone. Alana's interest is heightened when he hands her a business card and drops the bomb--he's an agent for adult film stars. Alana's reluctance to cheat on her fiance is short-lived, seeing as how she needs to scrape together as much money as possible. Alana's taken back to Isiah's studio where her first time with a black guy is being well documented by his video and still camera. The slut from back east wraps her lips around her first ever black guy...and we're just getting started. The blond slut's fiance has no idea that his woman's pussy is now being occupied by a cock that's several times bigger than his own. Alana's pussy has a firm grip around Isiah's big black cock as he has to slowly ease his way into that tight fuckpie. Alana's pussy continues to hug that big black cock until it's time for her face to feel all that creamy, black ooze. This is on "modeling job" that she won't want to show her fiance the stills from.
...Read More