Latest Updates from Dogfart (Page 43)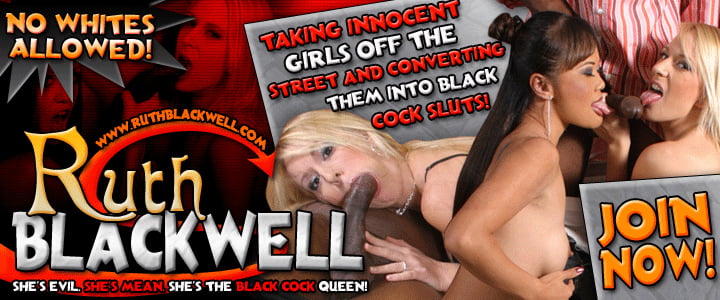 Candice Dare is in dire need of being the next big thing in porn. We find Candice searching out super agent Isiah Maxwell in order to fulfill her dream of sucking and fucking on camera. Candice's appointment to discuss her future with Isiah doesn't end in a professional manner. No, Candice Dare will do ANYTHING to have the hung black man represent her in all things adult related. The stunning blonde gets on her knees in Isiah's office in the hopes of sucking every inch of his big, black dick. The future looks bright when Candice Dare goes dark.....really dark. The future superstar spreads those amazing legs for the taking. Isiah's desk sees Candice getting her pussy plowed, fucked and drilled by Isiah's monster-of-a-black-cock until it shoots its venom deep in that cunt. We have a strong feeling she's now on his roster of "sluts for hire."
Rose Red's boyfriend has no idea that his woman is as unfaithful as they come. Rose's relationship with white guys last nearly as long as this update does. We find the fiery redhead in a public restroom, where random black cock sprout up like the plague. Rose's crimson lips wrap around a cock that finds housing in her throat. It's a safe bet that her boyfriend's at home, jerking his little cock as Rose gets her pussy fucked by a real man. The glory hole successfully satisfies another black cock slut. Rose's boyfriend? Well, we know know for sure that his size condom would never fit a black man's dick.
Moe and Chanell are on a couple's vacation. What better way for two lovebirds to relax than by having a deep tissue massage by the talented hands of a sexy Japanese woman? We can't think of anything better than that. Moe and Chanell discover that the language barrier with Marica is harder than the black cock Moe carries around 24/7. The timid Japanese masseuse eventually forgoes the massage in favor for some fun time with the black couple. Moe and Chanell have their way with Marica (an obvious violation of club rules), and we soon find both sluts sharing a big, black dick. Marica's mouth cleans off Chanell's pussy juice off Moe's monster. Marica's interracial ordeal comes in the form of her asshole getting stretched out to maximum circumference. Chanell's man keeps pounding that asian ass....and both the masseuse and Chanell dine on Moe's D.N.A