Latest Updates from Dogfart (Page 44)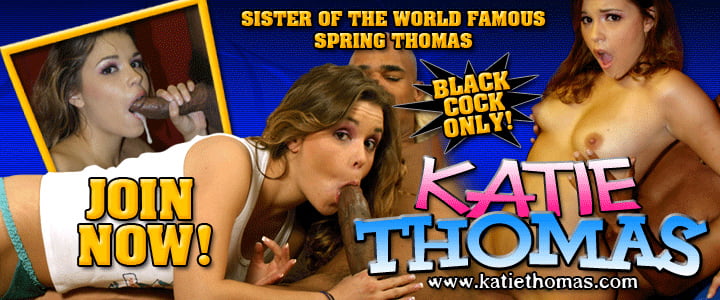 Scarlett Fay's man is hell bent on getting his rocks off by watching her take care of Isiah Maxwell. We find that Scarlett and the cuckold initially argue about his request--but it's a deal breaker in his eyes if she doesn't go through with his sick and twisted fantasy. Scarlett, at first, is reluctant, but she quickly discovers why black cock is the preference of white girls the world over. The cuckold takes a front row seat to his woman orally pleasing her black master....and he couldn't be happier. Isiah's big black dick finally invades the same area that the cuckold does,or at least he USED to. Isiah's attack on that white pussy brings the grin on the cuckold to one that goes from ear to ear. Scarlett's body continues to feel the wrath of black cock until the cream pie dinner bell rings for the white guy.
Abbey Brooks' return to our network has her getting fucked in a dirty place--in more ways than one. Abbey's a married woman with so many things on her mind that she's mistaken the men's room for the ladies room. She's completely embarrassed when she realizes that she's not where she was meant to be. You see, Rob Piper's in there and her mistake soon morphs into her crossing off "Public Sex" from her BUCKET LIST. The blonde with ENORMOUS tits drops to her knees and works over her black master's gigantic dick. The filth of this public restroom matters not as her pussy feels the full wrath of black cock. The dirty slut gladly welcomes Rob's massive meat right before her ass gets the same treatment her pussy did. Abbey's bent over the toilet while Rob goes to town on that married ass. Abbey's ability to accept that black cock in her holiest of places can only mean she's destined for the Interracial Hall of Fame. We end things when Rob deposits his creamy nougat in her mouth.
Marley Blaze's fun over at CuckoldSessions.com wouldn't be her only time she'd be doing some taboo things with a big black cock. We recently took Marley to a glory hole where she got a lucky black stranger's massive meat right up her backdoor. Marley's not the kind of girl you take home to mom, but she's the kind who will drain your balls at a moment's notice. Don't believe us? Just imagine the stuff running through the head of a the random black guy as Marley's mouth and ass take him to heaven and back. This white bitch knows her way around black cock. And her interracial resume continues to grow on the Dogfart Network.