Latest Updates from Dogfart (Page 42)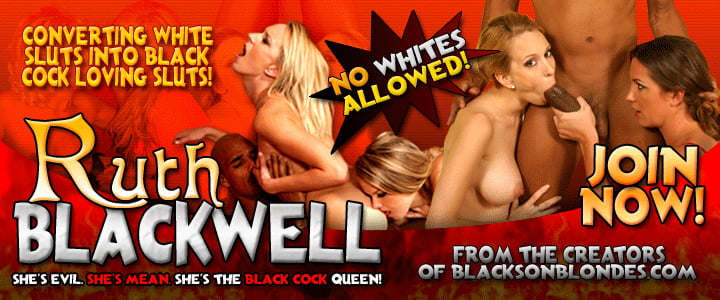 The much anticipated interracial gangbang of Summer Carter is finally here. We read the emails, scanned our Twitter feed, and listened to the masses when they demanded that Summer Carter be next in line for a buffet of black dick. The fresh piece of white meat came to us with a desire to please as many black men as we could round up. We begin with Summer getting on her knees, pleasing all the black cock thrown in her direction. Wave after wave of black meat gets thrust in her welcoming pussy until her face is covered with black gunk.
The shit nearly hits the fan when Brooklyn Rose's father gets THE phone call of all phone calls. A nosy neighbor has called Mr.Rose informing him that his daughter has been seen associating with a black guy. Isiah and Brooklyn are headed back to her place where they think they'll have complete privacy. Wrong. Mr.Rose walks in on his daughter sucking Isiah's big black cock in their kitchen. You see, ever since he caught her sister with a black guy he's been addicted to interracial porn. Mr.Rose turns into Mr.Creepy by having a front row seat to his adult daughter getting down and dirty with black cock. Isiah's meaty member slithers its way into her pussy as her daddy watches. In fact, he yanks his cock out and goes to town like it's going out of style. And the old fuck cheers her on. Wow! There isn't much more to say except this: We've taken interracial porn up to the next level.
Jack Napier and Jon Jon are observing what appears to be a police helicopter. Jack's paranoia has him thinking that a cheerful Elektra Rose is a cop decoy,and that he and Jon Jon are about to get busted. However, the paranoia disappears once Elektra's beautiful, natural tits come out to play with both black guys. Jon Jon and Jack take liberties with the fresh piece of white meat at their disposal. Elektra's milky white skin is in contrast to the dark skin of her new bff's. Elektra sucks down on each of their poles right before her pussy gets absolutely no mercy. There's no undercover cop who could ever look as fine as this white slut.....and her fuck hole is feeling the wrath of two angry, black guys. The aftermath can only mean that it's time to call 911 for her destroyed white cunt.