Latest Updates from 'Blacks On Blondes' at Dogfart (Page 13)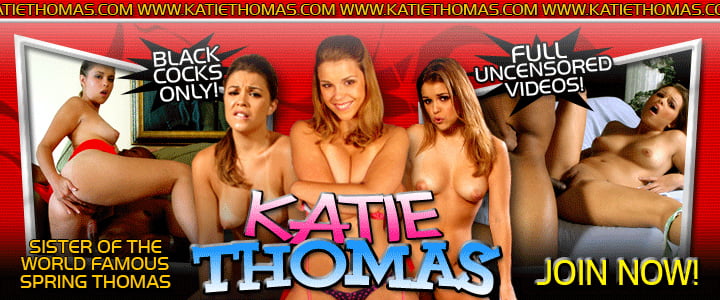 The Queen of Spades. It's more than just a playing card in a 52-card deck. It's a lifestyle. For those of you who've never heard of it beyond a card game, The Queen of Spades is a white women who has dedicated her life to BBC. You'll know a true Q of Spades by the tattoo, usually located on the nape of the neck -- or her back. Harmoni Kalifornia is an internet legend; in fact, you probably already know who she is...which means, you know she's a True Queen of Spades. And today, she's just hanging out in LA and waiting for something to happen when Shane Diesel spots Harmoni, flying her tat in public. He even has to give the young Bull Isiah Maxwell a Queen of Spades lesson, and then, back at the crib, it does indeed go down. Being the true Queen that she is, Harmoni asked for more, so why not toss Jack Napier into the mix? You know her white hubby will be jerking his dinky to this epic scene!
Brooke Wylde is a Black Cock Slut. Really, she is. This ain't no porno talk, or b.s. marketing scheme. Brooke loves the black man -- on or off camera. And when you ask her why, Brooke carefully formulates an answer -- just to make certain she's clearly understood. Brooke uses words like "swagger" and "confidence" and "size", and she'll tell stories of Friday-night club activities, in which the black man will approach, slap her ass, and pull her to the dance floor (a white man would be slapped for such behaviors) before he takes Brooke home to fuck all night. Today, the Blacks on Blondes members are in for a special treat. This is Brooke's very first time simultaneously entertaining two black men. The result? Multiple, (and very real) on-camera orgasms, before our two black bulls put Brooke on her knees for a double reward.
Bet you've never heard of Dogfart Records! No...it's not a new, hip-hop label started by Rob Piper and Rico Strong. Dogfart Records is, however, a new way for Rico and Rob to capture Snow Bunnies in their lair, dangle an imaginary internship in front of their noses, and then pull the age-old "casting couch" routine on them. It's a trick as old as Hollywood itself, and you know how it goes. Here's the funny part -- even when the girls aren't too willing, they'll do almost anything for a cool job in Hollywood! Even cheat on their boyfriend for a chance at an important job at an up-and-coming record label. They might not like it too much, but hey -- a girl's gotta do what a girl's gotta do, right? Even if it means letting both the black men bust in your little pussy...and without being on birth control to boot!