Latest Updates from 'Blacks On Blondes' at Dogfart (Page 12)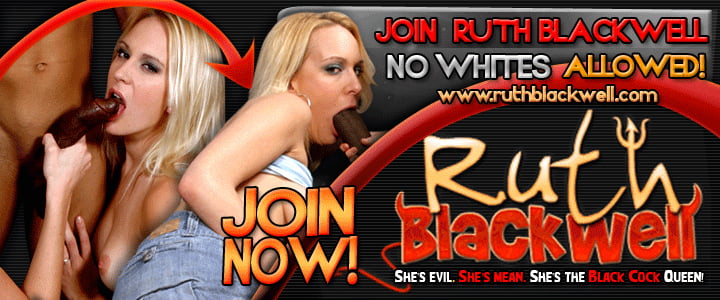 As you're well away, a lot of debauchery goes down at the Dogfart Social Club. Whether it's drinkin' or smokin' or gamblin', this crew of black bulls has a favorite hangout for sure. There's an extra fixture in today's madness, and it happens to be the beautiful blonde black cock slut, Jenna Ivory. Her sole purpose at the club is the same as all the white girls who get invited: to be used. Jenna's kept in a head cage to be used at Bulls' whim. So, in the middle of a card game, a drink, or at the end of a joke, she may be groped, stripped, fingered, or put on her knees, where her eager mouth is used to pleasure the crew. When Jenna's mouth isn't enough, there's 2 more holes to use, and Jenna offers them up willingly. After the crew drop their loads into Jenna's mouth, it's a big swallow before she's put away...only to be brought out again when they're ready for Round 2.
A lot of people come to visit Los Angeles, and most do so for all the obvious reasons: the beach, the amusement parks, and Hollywood's famous Walk of the Stars! Jasmine Jae visited from Britain, and while she experienced everything I get mentioned, there was one thing she couldn't get back home. One thing she knew she wanted to experience on her trip over, and she knew her old friend Sean Michaels could deliver. Jasmine's never been with multiple black men before! Sure, Sean was taken back by the request, but he knew he could make it happen...and he did. Back at the crib, Jasmine presents herself decked out in her finest lingerie before our three black bulls take turns on her. After back-to-back creampies and a giant load to the face, Jasmine's one happy girl. And what about her hubby who's back home in England? Well, what he doesn't know won't hurt him!
You're about to witness a porno match up of epic proportions. In one corner, Keisha Grey, hailing from Florida and one of the biggest names working Porn Valley today. In the opposite corner, the legendary Mandingo. Does the man with arguably the biggest dick in the history of porn really need an introduction? Keisha's here for one reason, and that's to test the boundaries of her butt hole. Will it allow Dingo's massive black cock entry? And just how far can Keisha's brown hole stretch open? It was straight to the A for Dingo, and we weren't sure if Keisha could hold her own. With every thrust, Keisha opened up wider and wider, in between positions tasting her puckered asshole off Dingo's 12 inch dong. As with any classic match up, this one goes the distance with Keisha's incredible anal skills making Mandingo erupt in the final round, his mighty load splashing Keisha's tongue and face. She swallowed it all, and whatever ended up on her face she scraped off and ate. After it was all said and done, I'd call this one a draw. And demand a rematch!