Latest Updates from 'Blacks On Blondes' at Dogfart (Page 16)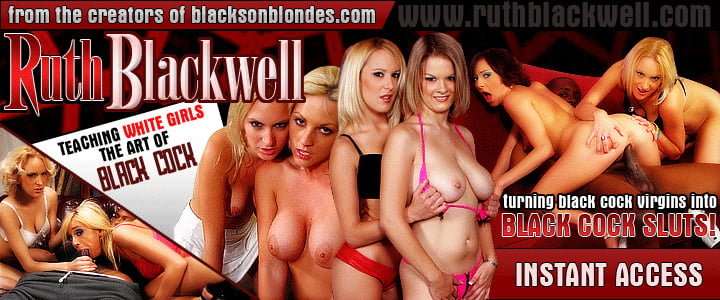 It's a hard knock life for Charlie Mac. You see, he's been slinging his black meat on camera for several years--just look at the amazing work he's done for our network. Now,it seems, Charlie's headaches with his woman has affected his body and mind. This is where Bliss Dulce enters the picture. Bliss is introducing Charlie to the world of meditation and stretching...but it's going to be Bliss' backdoor that gets the ultimate stretching. Bliss forgoes the lesson in favor of the stressed out black man in her presence. Bliss gets her mouth barely pass the tip of Charlie's big black cock. Charlie's relaxation increases as her turns his attention to the welcoming pussy of Bliss Dulce. The tense porn veteran slams his meat into that tight pussy until her ass gives him the green light for entry. Charlie's massive black snake finds its target in Bliss Dulce's succulent sphincter. Each thrust brings Charlie the peace and ease he's been searching for. And Bliss' ass is reaping the benefit of a once-exhausted black guy. This completely unorthodox method of relaxation comes to an end when Charlie's ball snot coats the pretty face oh his instructor.
Things were running a little behind schedule. The first shoot ran on longer than it was supposed to, and the second one hadn't started yet. While the cast for the second scene was getting their final prep, the director decided to keep them happy by running out and grabbing some lunch for everyone. As soon as he was gone, Byron had an idea. He always wanted to break into the camera-man, director side of things, so he grabbed the camera and talked Julez into a little interview while they were waiting. Finally he decided he'd take advantage of the situation and shoot a POV scene starring his dick, and hot brunette Julez doing all the work. She was reluctant to get involved in this since she just got done with makeup, but he insisted, and finally she agreed. So he talks her out of her outfit, and gets her rubbing up her tight pussy. Before long she's sucking like a baby on his fat black dick while he looks down from the lens position. He soon has her bend over and glide that huge ebony prick into her sweet spot while maintaining good framing, and a minimum of camera shake. She fucks him till she's had enough, then she goes back to sucking and jerks him off into her mouth, finishing, just as the director arrives with lunch, and he's pretty pissed about the whole venture. Luckily Byron did a good job, and it makes for a tasty BoB POV update for this week.
Lisa Ann owns a company with her husband (who's out of town). Isiah recently turned 18 and she's had her eyes on the hungry, young black employee. A casual meeting in her office quickly escalates into sexual harassment and the possibility of divorce if her man ever found out. Then again, Isiah's about to have major bragging rights to be the envy of all his friends. Lisa's display of heavy flirtation is too much for Isiah to resist--he's now melting her her hands. Isiah begins to worships his boss' feet right before she gets more than a mouthful of big, black dick. Isiah's black meat sets its target on the best of cougar pussy. Lisa's desk USED to be where she got work done. Now her desk is the site of interracial infidelity. Isiah's huge black dick changes course by going deep inside an ass that's extremely legendary. Lisa's husband has no idea that he's married to a woman who's using their office to get her ass jammed with black cock. Lisa Ann better call the carpet cleaners after the mess Isiah left on her face and floor.