Latest Updates from Dogfart (Page 51)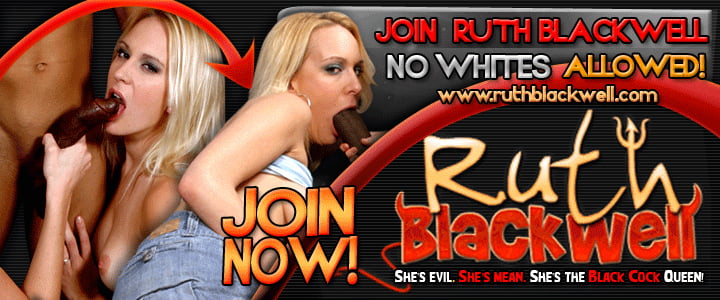 That heartbeat you're hearing is coming from Emma Snow and her Dogfart debut. We continue to bring the the newestand freshest of black cock sluts we can find.....enter Emma Snow. Slim Poke, Moe "The Monster", and Emma Snow talk about their humble start in the industry. One thing leads to another and Emma finds herself in an Interracial sandwich. She sucks on Moe and Slim's big black cocks as if she has been fucking on camera for years; however, at 18-years-old she's barely legal but knows her way around black guys. The fresh piece of white meat gets her mouth and pussy stretched to a circumference where it guarantees that non-black cock will never get her off. Slim and Moe run the gauntlet on the white bitch's holes without any mercy at all. That creamy white pussy covers both big black cocks in a scene that's one for the ages. Emma's grin can only signal that she's ready for two hefty loads from both massive black hoses.
Janet Mason's husband has given her the green light to go out and get some random black cock. We find that Janet's trek has brought her to a filthy bathroom where graffiti is as evident as the slutty cougar inside its walls. Janet's clothing peels off a body that puts girls half her age to shame. What could be next on her list? How about that random big black cock she was so desperately searching for? Janet's wedding ring is on one of many fingers that wrap around that big black cock right before she sucks it down her throat. The busty wife gives the ultimate blowjob right before her that pussy rides the wall. The lucky black stranger's cock pumps in and out of Mrs. Mason until the constant friction causes him to erupt deep inside her. What husband wants, hubby gets.
It's really no secret that Savannah Fox is a black cock slut. We find Savannah and Shane going down memory lane with her first time she ever got the black meat. Savannah's attempts to prove her title to Shane Diesel are not futile at all; in fact, we begin the festivities with an interracial foot job. Shane runs his black monster along the heels, soles and arches of Savannah's silky feet right before she takes in as much as her mouth's capacity can handle. The Dogfart debut of Savannah Fox wouldn't be complete without her jaw unlocking to take in all that black goodness. Where shall we go from here? How about Savannah's pussy feeling a black cock whose size is easily that of 5 white boys put together. The vaginal walls of Savannah stretch to the point where the pains of child birth won't be an issue for her in the future. Shane Diesel switches gears and focuses on that asshole of hers. Oh,did we mention that the bitch can squirt with the best of them? She can. Shane's black anaconda drills its way deep inside her anal cavity to the point where her eyes roll and tongue hangs out her mouth. Where do we end this fine update? Can you say "pop to the face"? We knew you could.