Latest Updates from Dogfart (Page 54)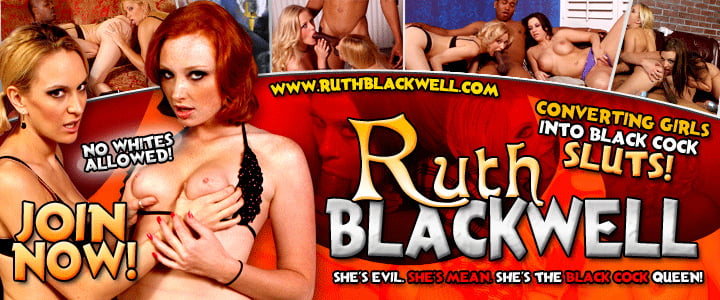 There's some truth to the myth that European sluts have absolutely NO reservations when it comes to fucking. Enter Valentina Nappi. Valentina comes to us via the canals of Italy and her thirst for big black cock might trump that of her American counterparts. Valentina enters the adult bookstore to find only the best in interracial porn. However, Valentina finds that she's not alone when an anonymous black cock joins her masturbation session. Valentina shows no hesitation in sucking the black cock of someone she knows nothing about. The Italian slut sucks down that black meat while rubbing her pussy and gorgeous tits. Valentina puts other self-proclaimed "sluts" to shame when she lets that lucky black stranger RAW access to that sphincter. Yeah, she had no qualms about going flesh-on-flesh with that faceless black cock. Hesitation isn't in this Euro slut's vocabulary as she milks him dry of all his thug sauce.
Alison Faye's father is in over his head with a bookie. Mr. Faye has a gambling problem and it's about to reach the boiling point-with his knees being the target of an angry collector. Mr. Faye is on the phone when Jack Napier comes to collect on some bets that didn't work in the old man's favor. Physical violence almost comes to fruition when Alison is caught by surprise at her father being manhandled. Alison's shock at dad's misfortune can only lead to her giving up the pussy for her elder's welfare. However, Mr. Faye would rather be in a wheelchair for the rest of his life than watch his angel getting fucked by a vindictive black cock......but she knows that this might snap him out of his gambling addiction. Alison's father gets a front row seat to the complete and utter destruction of his daughter's pussy. At the age of 18, Alison knows her father's history with gambling, and what better way to cure him than making him watch her get some big black cock? Jack takes full advantage of the situation by sliding his black python into the mouth of an eager slut. Mr. Faye nearly goes into cardiac arrest as the apple of his eye experiences 12 inches of angry, black dick. Alison's white pussy cashes the check her bad daddy continues to write with the bookies. Alison's enjoyment of that big black cock can only jam the dagger further into her daddy's heart and soul, but,of course, she cares not. Alison's father's ordeal comes to a merciful conclusion when he watches a big black cock spew its venom all over his little angel. A black cock slut loving angel.
Chanel Preston is a porn producer that works her construction crew to the bone. We've come across the crew building new wets for the bitch in charge, and things are about to reach the boiling point. Jack Napier, Wesley Pipes, Charlie Mac and Shane Diesel have put in long hours with constant verbal abuse.....it ends now! The guys unionize and Chanel's really left with no choice but to succumb to the demand that she play with each black cock in sight. The married boss worships each big black cock put in her face,via sucking it down until it reaches the bottom of her stomach. The disgruntled contractors take turns violating Chanel's throat with what they sling around on a daily basis: huge, black cock. Chanel's late Christmas bonus to her crew comes in the form of her offering all her holes to the mighty black man. Each guy takes his turn plowing her pussy and ass until it's nearly demolished in a manner that they've taken down buildings. Chanel Preston gets her assand pussy shot full of the black man's seed, and we can't help but almost feel sorry for Mr. Preston. Almost.