Latest Updates from Dogfart (Page 55)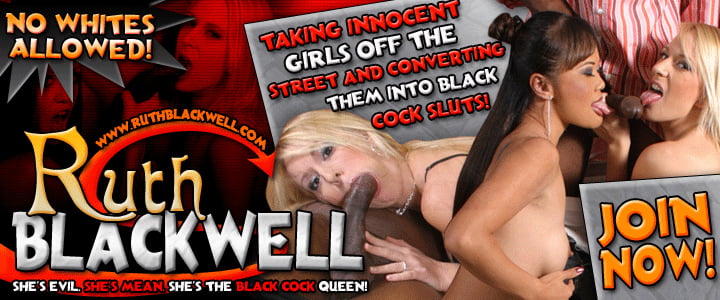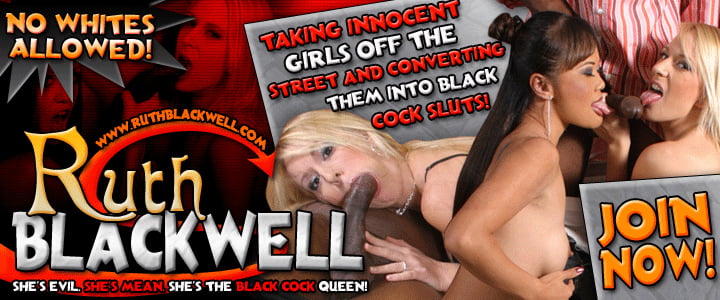 Who says good help is hard to find these days? Kristy Snow makes her mortgage by waiting tables at a diner that's clientele happens to be on the dark side. Kristy's husband is out and has left his competent wife/employee in the hands of a group of black guys whose ordering habits don't fare too well with their health. Kristy has no problem remember names or orders and she's more concerned with getting her needs fulfilled. Kristy's heavy flirtation with the guys eventually leads to them forgetting about their stomachs and focus more on the need to fuck that white pussy. Kristy's lunch break comes in the form of four big black cocks for her oral consumption. The slutty white waitress has her tits jiggle and bounce as her mouth goes to work on a table that may or may not leave gratuity. The gang of guys pull a train on the black cock slut, and it's something the health inspector wouldn't approve of if he or she entered the picture. Kristy's use of the dreaded "n word" only brings this interracial gangbang to a level where the guys fuck the bitch even harder. Can you blame them? Kristy ends her shift by getting blindfolded and trying to tell which cum belongs to which black guy. The catch of this ordeal? Kristy drops the bomb that her husband secretly videotapes her encounters and that's all the black guys need to get the fuck out of dodge.
Zoey Portland's trip to a glory hole just got her started on the road to interracial stardom. We brought her back at your request for an all out interracial gangbang that takes perversion up to the next level. Zoey meets up with a couple of black guys and we're soon inside where the stampede quickly begins on all her holes. Zoey attacks those five big black cocks in a manner that words simply cannot describe properly. The blonde slut defines the term "airtight" as her mouth, pussy and ass are simultaneously stuffed with gigantic black cock. Those hands? Well, those hands keep just as busy as the rest of that body and we're now full speed ahead with this insane interracial gang bang. Zoey's smokin' body gets fucked all over this dingy place until she rolls out the welcome wagon for all those loads of cum. A creampie is definitely on the menu along with messy facials and a gullet full of ghetto goo.
Shayla Laveaux's is the top realtor in the business. Shayla's showing a spot to Jovan Jordan and he's about to discover why the busty cougar is able to close so many deals: That mouth and pussy go the extra mile. Shayla's business dealings may be unorthodox BUT she's getting the job done by laying on some heavy duty flirting. And the flirting doesn't end with some harmless eye-contact.No. Shayla's gonna get her commission even it it means sucking on her potential buyer's big black cock. Jovan's credit score matters not as Shayla's mouth gives warm housing to the mighty monstrosity he carries around. The realtor abuses her power even further when she turns a blowjob into a full on fuck session! That mature booty gets felt up right before her pussy executes a death grip around Jovan's massive black dick. The beautiful cougar fucks her client in such a way that she doesn't care that his renting this spot might scare away the white neighbors. The only thing on Shayla's mind is draining Jovan's balls as fast as his bank account will drain into hers.