Latest Updates from 'Blacks On Blondes' at Dogfart (Page 22)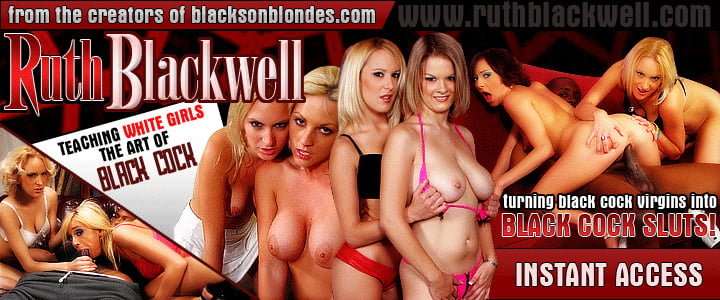 Kaylee Brookshire's parents aren't too fond of her relationship with Carmelo Storm. It's 2013 and the thought of their daughter with a black guy is completely out of the question for Kaylee's narrow-minded folks. However, Kaylee Brookshire wants a baby and Carmelo Storm is the man to grant that wish. Kaylee Brookshire gets things ready by treating his big black cock to a thorough tour of her mouth and throat. Kaylee doesn't honor the fourth commandment of honoring her parents the very second her pussy is pulverized by a huge black cock. Kaylee's pussy is stretched wider than the trailer her parents live in ,and Carmelo keeps fucking that white bitch from behind. Kaylee Brookshire's tits will give ample nutritional value to the baby that's inevitable after Carmelo unleashed in her pussy. If you listen closely, you can hear her parent's loading the gun that's about to be pointed at their own heads.
Warning: Girl's first ever adult scene! Lexi Rose dreams and wonders what it would be like to shoot for BlacksOnBlondes.com After all, she's a size queen and lovers to fuck herself silly with the biggest black dildos possible. Today we find Lexi treating her pussy to a black dildo that could easily be seen from the next city. However, Lexi's intense masturbation leads her into dreamland. Enter the black swordsmen that guys want to be, and women want to fuck- Mandingo. Lexi relaxes her mouth so that she can attempt to suck all of Mandingo; it's all an attempt...huge black cock can easily be seen from outer space. Lexi nearly suffers lockjaw and her white pussy is now for the taking. Mandingo bends that beauty over and she's now at his mercy. Lexi's pussy tries accommodating every inch of Mandingo but there's just too much of his black meat stick. Lexi, teeth clenched and all, lowers herself onto Mandingo as her pussy's creaminess soaks his third leg. The dream reaches its zenith when Lexi's face takes a tidal wave of black gravy. Lexi wakes up and is confused by the possibility that she wasn't dreaming...or was she?
This week we have something for the PAWG - phat ass white girl- lovers out there: Felicia Clover. Actually, despite your preference in body shapes, Felicia Clover is here to drain Lexington Steele's big black cock. We begin the fun by having Lex oil up that voluptuous beauty right after feeling every inch of her amazing frame. Those tits? Drenched in oil. That big ass? You guessed it....drenched in oil. Lexington Steele finally gives her that legendary black thermometer ,and Felicia Clover's huge tits glisten as she sucks on his his black dick. The foreplay ends the very second Lex invades her meaty white pussy with his massive black dong. Felicia Clover's love for interracial sex is evident when her screams pierce the ear drums of everyone around the place. Lex continues to fuck this bodacious beauty and he ends up coating her face with his nut butter.