Latest Updates from Dogfart (Page 89)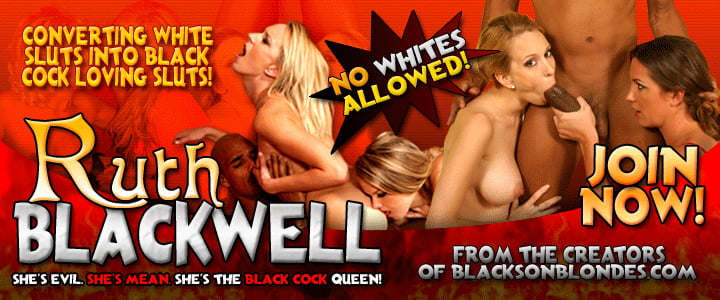 Alexis Ford wants an interracial baby and Lexington Steele is just the guy to donate his seed. Alexis and Lex get things going by learning more about one another right before the games begin! Alexis Ford gets more than a mouth full of Lex's huge black cock as her big tits jiggle each time her face swallows as much of Lex as possible. Alexis could suck on that huge black cock all day except for the fact that her pussy needs to be on the receiving end of a black cock explosion. Alexis Ford gets on top of the legendary swordsman and uses her pussy to bring Lex's black cock co several near expulsions of nut sauce. However, Lex turns her over and fucks this prototype for BlacksOnBlondes.com until that white pussy can take no more punishment. The only course of action left for that notorious big black cock is to spew all its contents inside Alexis' pulsating pussy. The only help needed by white guys is their ability to shell out some dollars at Alexis' baby registry.
We begin our update with a magical Native American who guys by the name of "Bright Stars". She roams the city looking for pussy and ass to get filled and -don't you know it- she stumbles across a couple of black guys shooting the shit.Did we mention that she has special powers? Rico and Prince want to see what that means exactly and we find ourselves front row to some interracial mayhem. Bright Stars gets felt up from head to toe and her first magical act takes place: She makes black cocks disappear in her mouth. Rico and Prince take turns with her mouth before focusing their attention to her ass and pussy. There's no amount of Native American medicine that can repair the damage that black cocks have done to Bright Star's snatch and anal cavity. The best part? She doesn't care since she's getting fucked into oblivion. Prince Yahshua fills up her pussy with his own batch of ghetto sauce. Rico? Let's just say he ain't greedy when it comes to feeding the needy mouth of that magical black cock slut.
Spoiler: This scene contains a cougar's first time EVER with black cock- let alone two of them! Jenna Covelli is in the middle of interviewing Rico Strong and Charlie Mac for a spot in her company. The seasoned slut makes no bones about it: she wants her first taste of black cock and she wants it right then and there! Rico and Charlie take turns using Jenna's mouth as temporary housing for their huge black cocks. The abuse of power that's on display is completely evident as Jenna Covelli goes back and forth between black cocks. Rico and Charlie - always ones for safety on the job- put condoms on, but Jenna Covelli wants them R-A-W. At 50 years of age, Jenna knows what she wants and she wants both black guys to show her no mercy. Charlie and Rico take turns slamming into her mature pussy and that's merely the start of Jenna's brilliance at taking advantage of her status. Jenna gets her pussy thrashed some more as her mouth slurps and sucks down the other black cock in the room. Jenna's husband would put a gun to his temple if he knew that the mother of his kids, (and grand kids, one day) was getting her first taste of black cock. Jenna Covelli gets fucked all over her office until Rico and Charlie spew out all their ghetto gravy. Do they get the job after that stellar performance? The ending will have you wondering if all white sluts get crazier as they get older.