Latest Updates from Dogfart (Page 71)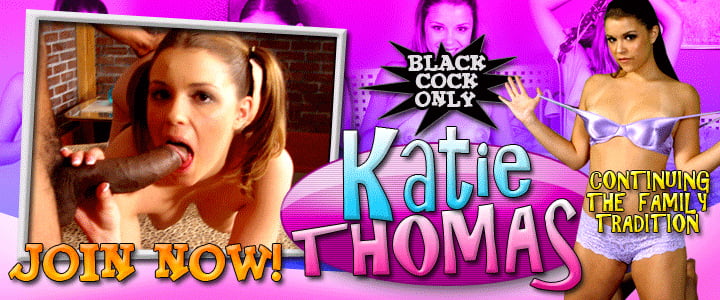 Katie Alexander Amped up cougar Katie starts stripping, and rubbing one out as she breathlessly details to us what she loves about the black dick! She gets her needs met when a young black buck with several inches to spare walks in and starts marking his territory all over her naked torso. He then alternates between exploring the inside of her hot mouth, and shoving that black rail balls deep into her dripping pussy until he declares that "it's time to nut in your mouth!" Katie drops to her knees, and frantically rubs her juice box while he strokes his dark length of pants pork and empties his sack into her open lips!
Chanel Chavez Young Spanish whore Chanel is yet another lover of the dark meat, and spends all her time thinking about sucking off black guys. She's excited today because she knows she is going to get all she can eat and she's ready to get her mouth fucked. The black dude comes in, and checks out her shaved taco, which he can't resist tasting for it's spiciness. He decides he wants to really eat it, and has her squirming all over the chair while he tongues her into ecstasy. Then it's her turn to provide oral attention, and she starts sucking his rod likes she's been stranded on a desert island, and hasn't eaten for weeks. She deepthroats this guy with all she's got, and soon she is gulping down his special sauce, and licking up the spilled gravy.
Lillie Ann Lillie Ann comes from Seattle down to LA in search of a long black dick to satisfy her oral urgings. She may not be a beauty queen, but she does have one very interesting characteristic that makes her unique from the average black cock seeker...she has a brown eye, and a blue eye! This is even cooler when she's looking up at you from a kneeling position while inhaling as much black dick as she can get down her esophagus! Wes Pipes gets to enjoy this odd-eyed dickworshipper as she sucks his prick until he decorates her face like a birthday cake with his homemade ghetto icing!