Latest Updates from Dogfart (Page 31)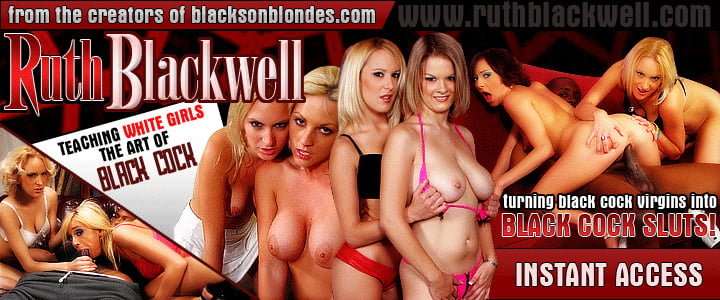 Like most women who are married to wealthy men, Aaliyah Love has a "personal trainer". You know...these are the guys who put their client-wives through a "workout" and make them sweat. Aaliyah's "PT", Isiah, sure does make her sweat. Too bad they've never once used her in-home gym for its intended purpose! All they use it for is another room in the house to fuck. Isiah puts all his MILF "clients" through the same, sweaty routine: drop to the knees to suck, then bend over to get stretched out. This time things are a bit different. Hubby comes home early! At first, he tried to put Aaliyah in her place; however, it's Aaliyah who is the "A Dog" in this relationship, and before you know, Hubby's getting indoctrinated into the cuckold lifestyle. It's a lifestyle he must accept, or it's time for Divorce Court, where he'll lose a hot wife...and half his net worth.
Look at Anna Bell Peaks, sitting in a preview booth at one of those adult bookshops, playing with herself as her cunt oozes a black man's jizz. She just finished sucking off a random BBC for Interracial BlowBang's sister site, Gloryhole.com. And instead of hurrying out of the sleazy store doing the "guilty shuffle" back to her car, she's opened the door to her booth...just to see what happens.Cause that's how Anna Bell Peaks rolls. It doesn't really surprise her when the first four or five Homies come in to keep her company...but she does look a little concerned when that number swells to double digits. There's BBC coming at her from all angles, so Anna Bell does what any good black cock slut does -- she drops to her knees and takes them all. She even gives the guys a green light to stick it in her tight pink hole, one at a time. Then all 11 men use Anna Bell as a cum dumpster, some firing multiple shots on goal. Looks like Anna Bell got what she was after!
You're about to be a fly on the wall as barely-legal and big-booty Melissa May takes a quick shower. There's one more fly on the wall, or, specifically, a fly in the sauna, and he's watching Melissa shower, too. His name is Mandingo, but you already know that. After Melissa dries off, Dingo pulls her into the sauna for a red-hot, Suck n' Fuck Session. Melissa can barely fit her mouth around Dingo's 13-incher, so you can imagine what it's going to do to her tight, pink cunt. What is does is turn Melissa -- just like all the girls before her who have had Dingo -- into a Size Queen. Melissa May won't ever be satisfied with anything but size, and the blacker and bigger the better.