Latest Updates from Dogfart (Page 34)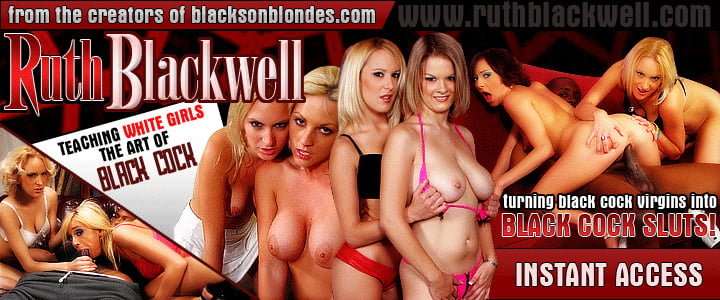 Let's face it, some of our Moms are really nuts. Take Zac's mom, Sara Jay. She's an unabashed Black Cock Slut, as her son knows all too well. He's witnessed the cheating his mom pulled while his parents were together, and now that Dad's left the house, it's only gotten worse. Sara doesn't care who's around to watch now -- if there's a black man around, Sara's gonna figure out a way to fuck him. So when the AC repairmen finish up their work on a hot summer day and catch Sara masturbating in the backyard, they know they're in for a real treat.Her son is such a pervert, he'll watch and jerk it, too. His perversions are only surpassed by Sara Jay, who takes the three bulls on until they drain their balls wherever they please. Sara's a cumdumpster by the time it's all said and done...which makes for a happy mother and son.
Brooklyn Chase loves her hubby very much, but a girl has needs, and Brooklyn's are generally big and black. Hubby's rule is as follows: as long as he can watch, the dudes are big, and they're black, then he's ok with Brooklyn being dicked down. He gets a little nervous when Brooklyn is hooking up with "randoms" on line, and Hubby can get really nervous when Brooklyn drags him to sketchy neighborhoods to help secure her "Bulls". Once back home, safe and sound, Hubby takes delight watching his lady being pleasured, and today's his lucky day! Sloppy seconds! Cause there ain't nothing better than fucking a very fresh creampie, unless, maybe, it's watching your wife taking a big facial from the other Bull.
Unless you've been living on another planet, you know about super hot porn star and slut wife Brooklyn Chase, who makes her return to The Dogfart Network at her favorite adult bookstore. This "cruisey hole" earns its reputation through various social media outlets, and sure enough, it's only minutes after stepping into that private viewing booth that two hung black bulls push their rock-hard dongs through. Brooklyn's let hubby know she's "out with the girls", and she's paid for a 1/2 hour in the room, so it's on! Brooklyn can't decide if she wants a messy face or a creamed cunt, so what not take both?