Latest updates featuring Ginger Lynn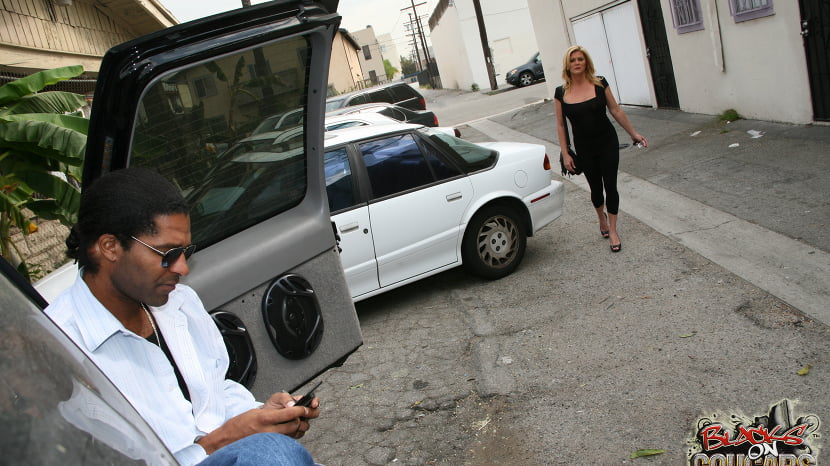 Good things do happen to good little white cougars. I was out and about when I came across this handsome black fellow in need of auto assistance. I needed some help....in making my white pussy gape as wide as possible. My initial advances made him nervous but the power of white pussy is too hard to overcome. Once at my place he eased up a bit once I got naked and started playing with the monsterous snake in his pants. Inch after inch kept coming out and I thought it would never end. Relaxing my jaw muscles made it easier for me to take his 3rd leg down my throat. I would have passed out if I wasn't able to breathe through my nose and his big black dick made it all the way down into my stomach. The last thing on my mind was sticking that thing anywhere near my ass but the mood was perfect for him to slide it in as far as possible without me being ripped in half. My heart was pounding, my face was sweating, and my pussy was aching and my ass was gaped as he fucked me for what seemed an eternity. His ride was here so getting his milky white goo all over my face was next on the menu. I still can't believe I took all of his black inches and can't wait to get some more interracial fuck buddies.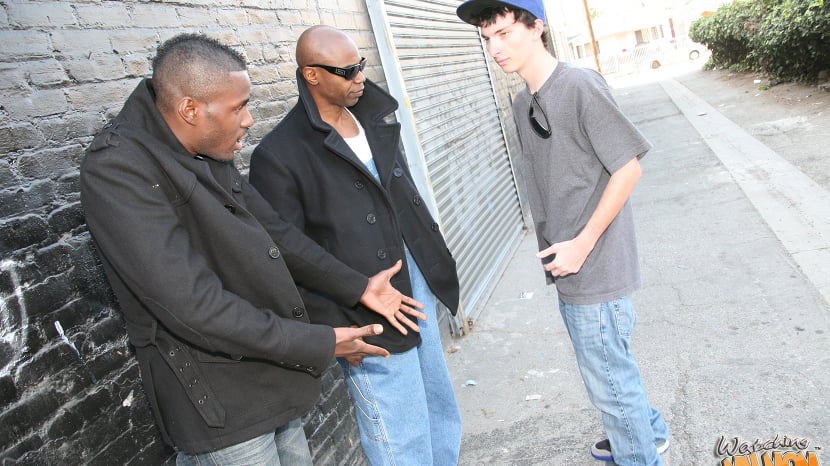 I'd thought my son would mature by the time he reached 18. Apparently I was wrong since he'd gotten into some trouble with some loan sharks. He borrowed $10,000 to open up a medical marijuana clinic but his lack of common sense made that a failure........like father like son. These two black hoodlums roughed him up as they brought him to my office as he was hoping mommy would bail him out yet again. I'm on a fixed income so paying $10,000 was out of the question. What I did manage to do was sacrifice my pussy and mouth for black dick so my son wouldn't be chopped into pieces. Making my boy watch the festivities was the only way I could make sure he'd never fuck up again. As he watched I was on my knees as my mouth did things I never thought possible. I was being bombarded with thick black cocks as my throat expanded to several times its normal size. That wouldn't be enough punishment and I was soon face down ass up awaiting more cock than my tiny white pussy has ever taken. My cervix was taking a pounding and screaming was out of the question seeing as how my mouth was constantly full of black dick. I could feel their big black dicks swell up which told me it was ready to take as much cum as they could dish out. My son is now in college and on the honor roll which proved my theory that watching mommy get railed by black dick can only be beneficial.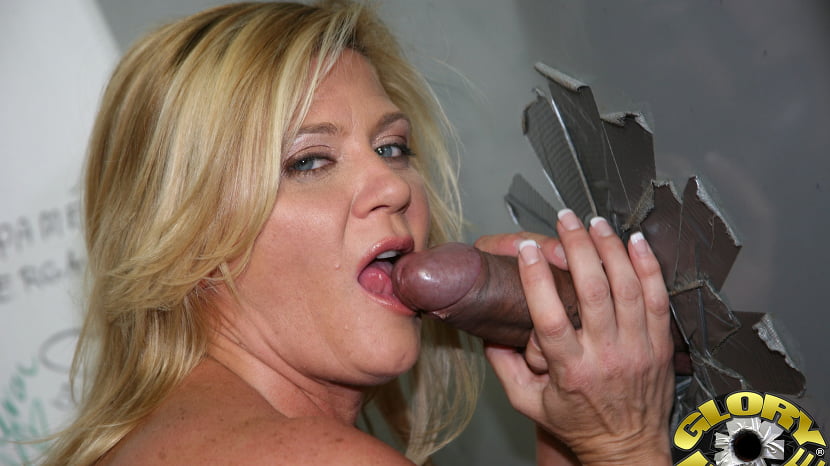 Ginger has done just about everything over the course of her porn career. Now that she's reached cougar status, and is once again a porn comodity, she decided to do the one thing she has never done...a gloryhole blowjob, with a little fucking through the hole. Ginger strips off her clothes, and starts right in rubbing that well-aged pussy until something more interesting shows up. Soon enough a fat black dick joins her, and she makes it's acquaintance by shoving it into her mouth. She does a very hot "fuck my mouth" sequence that warms him up for the introduction to her legendary poontang. She really gets off fucking this anonymous huge dick, and finishes by dropping down and milking it into her mouth!