Latest Updates from Dogfart (Page 4)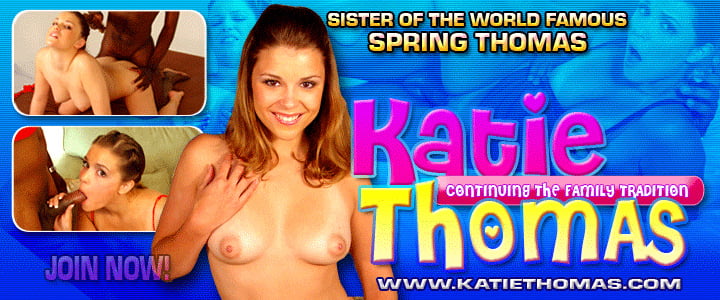 Chanell Heart and Demi Sutra are 'besties', but a better description might be 'odd couple'. You may not remember the TV show with the same name, but Demi and Chanell make for an odd pair, because Chanell is one slutty hoe...while Demi is very, very prude! Chanell loves one-night stands, but Demi wants to make a man wait -- until they fall in love. So when Chanell drags Demi to an adult bookstore, and then discovers a gloryhole in the back of the joint, well...it's going to be one interesting afternoon for sure! Just wait til you see Chanell work Demi into sucking a stranger who popped his dick through the 'hole' from the next booth over! It only gets better from here: Chanell fucks the dude, and then Demi turns from 'nice girl' to slut...and fucks him, too! My favorite part of this is watching Chanell jerk the dude's dick off right on to Demi! Talk about crazy!!
Daisy Stone loves BBC. She loves black men...and so far, she's 'loved' Jason Brown, Ricky Johnson, and Rob Piper separately -- but she's always fantasized about entertaining all three men at once. Daisy's also wondered, which one of these studs will fit in her ass the best? Daisy loves getting buttfucked, and her ample booty makes it necessary to have a pretty big cock if you're gonna tap her ass! This scene opens with all three gentleman wondering why they've been invited over to Daisy's place, and once Daisy appears to make her intentions known, it all makes sense! The fellahs immediately begin to grope and strip Daisy down before skull fucking her. Then, it's on to Daisy's mighty-fine snatch, that tastes as sweet as a peach. The fellahs each take a turn on her pussy before Daisy runs her Anal Test with all three. Which one fits best? The one who will cream pie her butthole...that's who! The other two aim for her beautiful face! Once Daisy comes to her conclusion, it's time for her to boot the fellahs out...until later tonight, of course, when she makes yet another 'booty call'!
Description: Valentina Nappi and her Hubby have a problem. It's a big problem. Everyone knows Valentina is from Italy...but not a lot of people know her Hubby, Juan. He hails from Spain. And it looks like his time in America is just about up. His paperwork is a mess, and he's even tried to bribe his way out of today's trouble...but the Immigration Agent isn't taking Juan's bribe; however, the Immigration Officer will take Juan's bride. No joke! In his final act of desperation in order not to be deported, Juan offers up his beautiful wife, Valentina. But the Immigration Officer is one greedy, horny dude! Valentina's mouth and pussy isn't enough!! If Juan wants to stay, he's going to have to offer up Valentina's ass, too! But look at Valentina! She's such a slut! She doesn't even care!! She'll offer it all up to the Immigration Officer, and Valentina will even let Juan join in on the fun! All of Valentina's holes are open, and both dudes use them all! In the end, Valentina's a sticky, jizzy mess...but at least Juan isn't being deported!!