Latest updates featuring Noelle Easton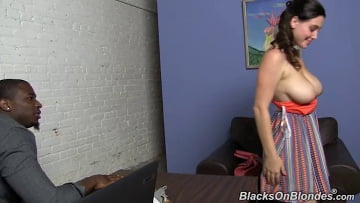 6th November
- Noelle Easton has dreams of bright lights in this big city. How does a busty white girl go about getting fame,fortune and notoriety? Porn is the answe
r and her being completely nieve is something that porn agent Rob Piper is about to exploit to the max. Noelle beings by meeting up with the sleazy agent in his office. It's not too long before Noelle is transformed into a super slut via make-up artists handy work. Rob lectures Noelle that a "try out" is in order, and she agrees if it can possibly launch her into a life of fucking on camera....and it does. Noelle gets on her knees and sucks on Rob's black cock while all that saliva drips down onto her massive jugs. Rob's eagerness to show his newest client a better life is shown when he pounds that white pussy. Noelle's gigantic tits rotate 360 degrees as her pussy feels the wrath of a black guy in charge. Noelle's official launch into porn begins when Rob detonates all over her face and tits. We have a feeling that the future is bright for the white slut with enormous boobs.
...Read More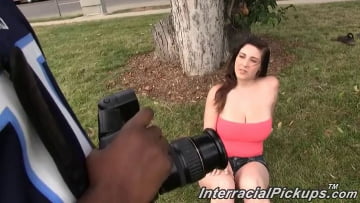 4th September
- The power of a camera is completely underrated. Noelle Easton and her amazing tits are in the park when a "photographer" approaches her. At some point
you can see her thinking that this is just another guy trying to ease his way into her panties. L.T tells Noelle that he's shot for the biggest magazines AND he's got some funds to spare if she has the time. We finally get indoors and Noelle's shedding her clothing for still images ONLY....or so she thinks. The black power of persuasion is too great for the busty beauty to resist and she's soon at his mercy. Noelle's initial hesitation fades away when she eases into this awkward situation. Those phenomenal tits bounce and quake while her mouth finally makes contact with the bulge in his pants. Noelle Easton is reminded that these graphic images will never see the light of day; ain't she gullible? Noelle's jump into "modeling" goes full throttle when she rides that massive black pole to its base. That camera captures a horny white bitch's pussy devouring a black cock as her screams nearly knock the audio levels off. Noelle Easton's pussy takes a beating until his black cock detonates, and she can only hope that this never made the internet.Hope.
...Read More