Latest updates featuring Aria Aspen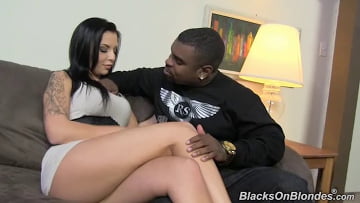 30th December
- Aria Aspen should have known better than to tempt herself by inviting over Rico Strong. Aria and her boyfriend are on a hiatus but that won't stop Ric
o from trying to get in her pussy and ass. After all, Aria's boyfriend doesn't roll in the same group as Rico, so fuck him. A few minutes of some intimate lip lockings leads into Rico feeling up Aria, and it leads to the discovery of a buttplug that Aria's held firmy in place the entire time. Aria quickly forgets about her boyfriend and gets on her knees to slurp down on a mighty feast of Rico Strong. Aria licks every inch of his black cock and manages to stuff down as much of it as her gag reflexes will allow. Aria soon climps on top of Mt. Rico and rides his massive black fuck stick until his balls are slamming against her. Aria Aspen's mouth and ass get treated to that butt plug right before she continues getting obliterated by Rico's trouser treat. Aria's ass gets warmed up enough an she feels confident in taking Rico via her soon-to-be collapsed colon. Rico opens her cheeks wide enough and fucks that anal slut from behind. Aria Aspen's ass gets worked over from behind and it's going to be a long afternoon for her sphincter. Aria lowers herself on Rico's black cock only after giving her ass a rest and sucking her juices off his meat. Aria's ass continues to get bulldozed by Rico's black cock. The only thing left is for Aria to get a face full of black venom. Aria's ass is now as useless as her boyfriend's tiny white dick.
...Read More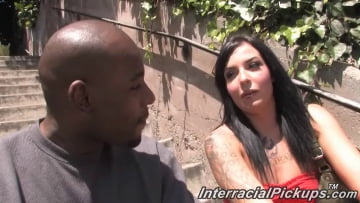 21st November
- The close knit apartment building my boyfriend and I live in is about to be the reason my pussy is sore. We live on top of Flash Browna dn I've been w
atching him as he comes and goes from his unti. Normally, he's bringing white girls back with him and that's made me super jealous. I walked up on Flash as he was on the steps and made some small talk with him. One thing lead to another and I dropped the bomb that my boyfriend's wish was to watch me get fucked by a big, black cock. Who better to fulfill that wish than Flash Brown? The only catch was that it would have to be taped and for our eyes only. Flash was hesitant but the power of white pussy is too convincing. We went back to my place and my boyfriend called as things were getting on their way. I unzipped Flash' shorts and my heart skipped several beats. I sucked down on that big, black cock as the red light kept flashing on the camera. My fuck box was soaking wet at the thought of interracial sex so I jumped on that humungous black pole. Flash did his best to keep the camera steady as his thunder cock slowly disappeared into my uterus. I was getting wetter and wetter at the thought of showing my man what Flash had done to my slit. Flash, to his credit, held onto that camera as hard as my pussy lips were wrapped around his thick, black cock. The tape was about to run out of the camera so I dropped to my knees for a blast of Flash' funk juice. I hope my boyfriend appreciates exactly how much I love him. Then again, I enjoyed myself as well.
...Read More