Latest updates featuring Aleska Diamond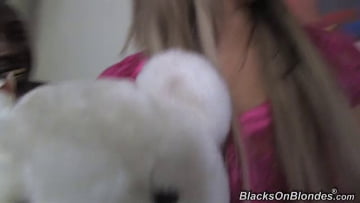 5th January
- Aleska Diamond gave up Rosetta Stone in favor of Wesley Pipes and Sean Michaels. She's from Hungary and her English is as limited as hung white guys f
rom her country. Wesley Pipes and Sean Michaels, the cunning linguists that they are, offer to help Aleska learn some terms such as "double penetration" which intrigues this European uber whore. Aleska's body language indicates that she's much more interested in getting her holes filled with big black cocks. This private session turns into an interracial sex vacation for Aleska when she unzips both black meat lingers to reveal black dicks that should be on some museum display.Aleska's mouth soon gets as wide as the Tisza River to suck down 2 gigantic black dicks. Aleska's pussy and ass are in sight of both thugs and her nether regions stretch wider than ever before. Her screams can be heard all the way from Europe as both dicks do damage to her girly parts.Aleska Diamond sucks and jerks both dicks off until her face gets coated with ghetto goodness.
...Read More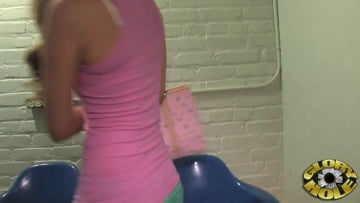 9th September
- Aleska Diamond's Hungarian passport can now have a Gloryhole stamp in it. The language barrier is broken when this European import came over for her f
irst black cock. She's not shy at all and further proof is shown when she doesn't hesitate to show off that bare body once inside her private booth. Aleska's shiny retinas can't help but stare at the interracial porn that she's chosen to rub a few orgasms out to. She's envious of the slut having interracial sex and soon she's going to join that exclusive club: Blondes who fuck their first black cock. Aleska's pussy has to wait for black cock while her mouth gets blitzkrieged by it. Her manicured hands and fresh lipstick are just the tip of the iceberg as to how fortunate that anonymous black man really is. Like a snake that's swallowed a rat, Aleska's mouth slowly takes in that black pole as her pussy drenches in anticipation. After taking her lungs to the limit, Aleska rides the wall as she grabs her tits and clenches down on her teeth. The black, veiny monster takes its toll on her pink taco and her heavy breathing begins to fog up the t.v in the booth. Aleska's American adventure comes to and end when her hands and mouth work together to make the anonymous black cock shoot its load.
...Read More