Latest updates featuring Alice Frost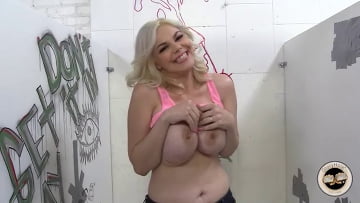 25th April
- Alice Frost's boyfriend has no idea that he's dating a chick that gets her rocks off by fucking random black guys. Alice is on the phone with boyfrien
d and assuring him that she's "just having lunch with her girlfriends." However, she's only telling half a lie....she's about to be fed nearly a feet of random big black cock. Alice enters the public restroom while not caring that her possessive boyfriend is home alone, with his cock in hand. Alice's big tits get released from her bra and it's not too long before a random big black cock uses the glory hole to his advantage. Alice gets her knees dirty as she sucks down that stranger's massive black jackhammer. Her phone keeps ringing as hey boyfriend's paranoia gets stronger and stronger-can you blame him? After all his busty blond girlfriend is riding a random big black cock BAREBACK. Alice's face and tits eventually get splashed down by that anonymous cock, and remorse covers her face as she makes amends to her boyfriend over the phone. We give that relationship another 2-4 weeks.
...Read More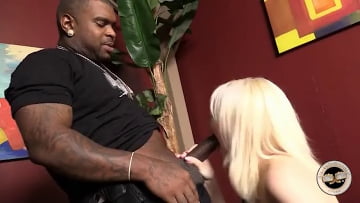 20th April
- Alice Frost will do ANYTHING to get the chance to work atone of the best strip clubs in the country. Rico Strong's in the process of hiring new girls
for his club when Alice comes in hoping to be one of his best earners. Rico's club is high class, but he isn't. Alice sucks on the owners big black cock to put her resume on top of the stack of the other potential dancers. However, Alice's audition only really comes full circle when Rico's crew tests her out: mouth, pussy and ass are all for the taking. The busty blonde has no reservations about "fucking her way to the top", and she does that by giving up all her holes to all the black guys there. Alice's future is secure at the club after she welcomes every last drop of jizz from black guys who know how to abuse their power.
...Read More