Latest updates featuring Angelica Sage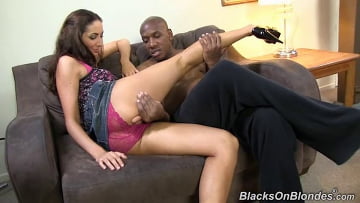 19th September
- We knew we had something really special when we saw Angelica Saige dancing for dollars over at GloryHole.com. Angelica had barely wiped some anonymous
black jizz from her face when she demanded to get her the biggest black cock for some one-on-one fun. Enter Mandingo. Actually, Mandingo was the one who was about to enter the mouth and sweet pussy of Angelica Saige. The legendary swordsman got Angelica extremely moist just from the heavy duty he was dishing out. The latest addition to Blacks On Blondes was weak at the knees from the very second Mandingo whipped out his third leg. The dinner bell immediately rang at that moment for Angelica and she was soon sucking down as much of Mandingo as she could; which is an extremely difficult task especially since she's so new to interracial porn. Mandingo peels down her super tight panties and is given access to a pussy that's about to become a haven for black cocks ONLY. Angelica Saige lowers herself slowly onto Mandingo's big black cock while belting out moans that are music to our ears. Mandingo continues the assault on that white pussy and the only mercy it's given is when she sucks her pussy juice right out of the tap. The curtain drops on this phenomenal interracial scene as Mandingo sprays that white slut with every ounce of black gravy that his balls can muster up.
...Read More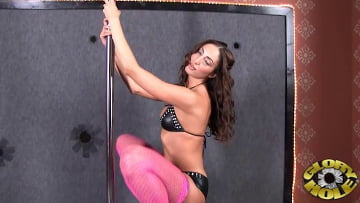 31st July
- Angelica Sage is the envy of all the other strippers at this club. There are times when cat fights get so out of control, but hey, Angelica Sage's sex
iness will bring that type of bitchy behavior from others. Angelica is only concerned about making this month's rent and will shake that money maker to do so. Apparently a couple of black patrons are throwing caution to the wind and risking serious jail time. The offense? It just so happens that their big black cocks are exposed in the hopes that Angelica Sage will defy club rules and engage in some lewd conduct. Angelica Sage gives both anonymous black cocks a tour of her mouth while she rubs that soaking wet clit. Angelica gets up and jerks both black cocks while resembling a snob bunny who's skiing downhill. The next order of business is for Angelica Sage to get her first taste of black cock and it's via dirty walls with filthy carpeting. Nevertheless, Angelica rides the wall until her reproductive system collapses like walls of Jericho. The only thing left to do is to have Angelica Sage milk those black cocks until there's no more black D.N.A to be found. Angelica's next task is to find the white customers and only milk their ATM accounts.
...Read More