Latest Updates from Dogfart (Page 113)


Lately the 9-5 gig is draining every ounce of energy I've got. I go home nightly and rub my warm pussy until it gets all creamy while images of big black dick dance around my head. One afternoon I finally snapped and laid on some heavy flirting to Shane Diesel at his desk. I caught him catching quick peeks at my panties and my titties which nearly busted from my top. Business soon turned to pleasure as this English slut got on her knees for black dick which rivaled the girth of Big Ben. Slamming it my mouth was getting me wetter and wetter by the moment as his meat stick made its way past my tonsils and into my stomach. I tried not to make so much noise so we wouldn't get caught but try taking on a black dick that size without screaming....you can't! I've never known pleasure like this since it's been too long since my slit was treated to a black cock lunch. Every time he slid it in me brought me closer to the next orgasm and I was the luckiest English girl in the world when his flood of black spunk coated my face. Next time I'll pay attention to the office's sexual harrassment policy video.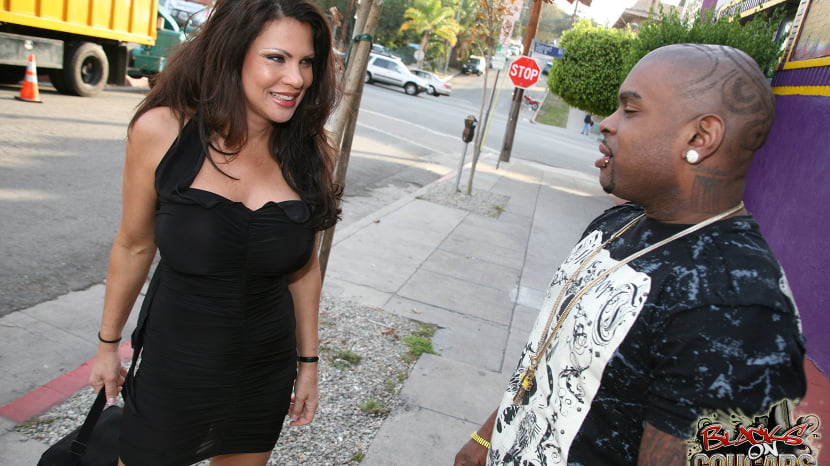 Wearing this tight revealing dress is the perfect bait to attract guys who want to plow a cock hungry cougar. However, years of sexual practice has shown me that only big black dicks are how I get my kicks. I especially love ones that are a foot long with balls that hang to the ground. Today's daily black meat prowl got me into the arms of Rico Strong. The bulge in his pants indicated to me that my mouth and pussy would be taken to the limits. I couldn't wait to unbutton his jeans only to reveal the 9th Wonder Of The World. That big black dick grew and grew until it reached full length and girth and my mouth was about to open wide. I could barely take the entire dong down my throat as my fat mammaries bounced in every possible direction. I had to take a deep breath as he tickled my clit with his black dick because I knew 12 inches of him was about to disappear up my white snatch. This relentless pussy beating couldn't last long enough and draining his black sack all over my face was what I had been praying for. It's been a few days since i took on that black pipe and I'm still having trouble walking straight.
An average trip to the supermarket ended up with an above average black cock entering the places my husband has forgotten about. I noticed this sexy bagboy as the teller was ringing in my gorceries that my platinum card was paying for. I had him help me to the my car and persuaded him to come home with me. He was scared about losing his job but my smile convinced him otherwise. Once we got home I changed into the same outfit I wore on my wedding night. Jack was shocked but soon relaxed when I placed his big black cock in my cougar mouth. He was still nervous but that dicn't stop his black cock from getting stiff and stabbing the back of my throat.I had to feel his warm stick in between my legs and I hoped on him until his balls slapped against my soaking clit.Jack's black cock was longer than the stick I used to seperate my groceries from the other customers and wider, too. I had him slam every inch until my white body housed that black lightning rod. It's too bad that the only way my husband could give me 12 inches is if he fucked me 6 times. However, Jack was able to keep his dick hard even as my screaming must have shook his eardrums. My white pussy wrapped around his beefy black sausage until the nerve endings in my clit exploded all over. Jack's shift was about to begin which meant that mommy needed her dose of black caviar.