Latest Updates from Dogfart (Page 107)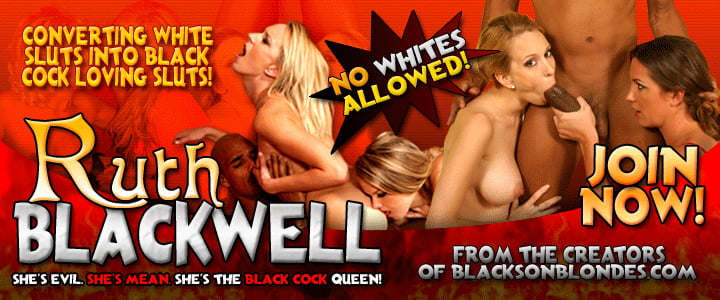 Hope is the perfect name for today's visitor to the glory hole. Hope knew something was different about this sex shop by the interracial titles clearly displayed. In fact, there were ONLY interracial porn dvd's, and Hope would be joinging the ranks of white sluts that live only for black cock. The interracial porn playing in her booth sends the right signals to her brain , which tells her to finger her pussy until her fingers fall off. Hope rubs out a couple of mind-shattering orgasms while an anonymous black cock pokes through. The extra hole in the wall is all the access the aggressive black man needs to reach through and feel the angelic-like face of Hope. The child's play ends when Hope squats down and wraps her beautiful mouth around a black cock that could double for a fire hydrant. The faceless black cock slowly enters Hope's mouth in order to avoid snapping her jaw like a twig. The slivery tongue of Hope gives the ultimate blow job that nearly brings the black cock to the brink of blowing like a geyser in South Central. Hope's hands and mouth work together to keep that big, black cock rock hard long enough so she can ride it. Once Hope gets back to her feet she fights the urge to put her clothes back on. The alternative? How about if this white girl slides down that anonymous black cock until her pussy juices stain the wall? That's just what Hope does as she fuck the wall until her insides nearly cave in. The mere fact that she can get caught only makes her pussy creamier, which in return, rocks the world of the black man behind the wall. The death grip her pussy had around that black cock slowly loosens up. The only thing left for Hope to do is become part of the welcoming committee to a downpour of black ball juice.
If only the walls in this glory hole could talk they'd tell you a story of a whore named Tracey Sweet. The latest deviant girl to get her first taste of black cock has a set of tits that rival few. Tracey's evil surroundings don't faze her as she undresses while watching the hardcore interracial porn playing. Tracey's love box gets wetter with each passing second, which make sit easier for her fingers to slide inside her pussy. Tracey's heart skips several beats when a set of black balls and a huge black cock enters in. Several things must ben running through her mind but none include getting the hell out of dodge. Tracey's mouth barely gets the tip of the black cock into her mouth. Tracey's persistence pays off when she manages to get more of that anonymous black cock in her mouth. Tracey had to give her jaw a rest so she could ever hope to chew food again; so she let the perverted black man feel her up before feeling his raw flesh slide in between her thighs. Tracey's pussy slowly stretched wider and wider as she slid down the big, black cock poking through the glory hole wall. The hair on her pussy must have given him a tingling sensation before he gave her a vaginal cream pie that seemed to leak our forever. Tracey's pussy has always been quite the rage amonst white boys but her days of peckerwood penis have come to an end. Apparently the anonymous black guy's cumshot permanently converted Tracey to the dark side and she's not looking back. Clean up: Aisle 9
It's been too long since this gas station has seen a customer the likes of Julie Cash. The cashier jockey must have lost his mind when Julie Cash and her enormous tits came to his place of business. However, the only nozzle that would be in her cards would eventually be a big, black cock. Julie's eyes immediately lock in on the graffiti that has plagued this stall for quite a while. The hole in the wall is soon going to change her world. First, Julie's going to use the privacy of the stall to gush out some mind-blowing orgasms, courtesy of her freshly manicured hands. Aparently the gash station attendant tipped off a black customer as to who was currently in the restroom. Julie Cash soon comes to realize the purpose of the gloryhole and an anonymous black cock risks injury in order to get its rocks off. Julie's breathing gets heavier as she drops to her knees to inspect this big, black dick. That salivating mouth quickly sucks on the black stranger's massive appendage as her free hands really get her juices flowing. What's next on the menu? Julie Cash makes every second count by dropping that ass against the wall until her womanly parts are completely penetrated by a huge black cock. Julie's hands pinch her tits as she gets fucked doggy style by the luckiest wall to ever get erected. The only thing left for Julie to do is drain as much seminal fluid as that black cock can spray out.