Latest Updates from Dogfart (Page 101)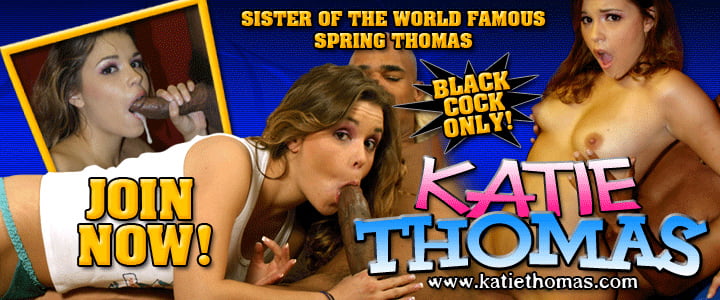 We've stopped trying to figure out why a guy would be so submissive as his girlfriend walked all over him. Then again, Mae Meyers is the kind of girlfriend that you' give your right arm for. Mae also has an evil side and it comes out when she's given the gift of big, black cock. Mae's boyfriend/wallet/pathetic excuse for a human being gets verbally torn apart as Mae sucks on Mandingo's big, black cock. Slowly, but surely, Mae's clothing falls off her and winds up on the back off her cuckold. Mae's attention turns to Mandingo as she continues to slurp and gag on the biggest black cock she's ever seen. Mae's dripping wet pussy is next on Mandingo's agenda. The cuckold watches as Mae's lovebox slowly takes in a black cock that resembles an ICBM missle. That gorgeosu ass of Mae points towards the ceiling as Mandingo continues his assault on that pussy. The tip of Mandingo's black cock reaches Mae's tonsils while she's on her back and screaming as if she's anticipating what's to come in 9 months. However, the hopes of having a black baby are squashed when Mandingo pulls out and sprays his testicular sauce all over her pussy. Guess who gets to clean it all up.
Alysha Rylee is a tall glass of water. How tall? At nearly 6 feet tall, Alysha has trouble dating men her height. Try finding a white guy her height and one that an keep his dick hard and you have mission:impossible. Fortunately, Alysha' eyes only seek out black men and Jack Napier fits the bill perfectly. However, despite being tall enough Alysha's more concerned with the height of his big, black cock. An afternoon at the park ends with both of them at her place and her panties come off in no time. Jack's strong black hands help her get completely naked and the black anaconda in his pants is just what she had in mind. The deformity known as Jack's black cock is more than Alysha Rylee can handle, but she'll try. Alysha licks his massive black cock before sucking as much of it as her mouth can allow. Those great tits gets palmed like a basket ball as her mouth sucks on more meat than a korean barbeque restaurant. Alysha's true test of love for black cock comes when she gives her mouth a break and has her tight, white pussy jump into the game. Alysha takes that big, black cock as we get to see her tits bounce and shake the way they were meant to. Jack takes care in not ripping her in half as his black cock excavates its way inside her reproductive system. Alysha's knees nearly clamp on Jack's black cock since he's bringing her to Orgasm City and she's enjoying every minute and inch of it. Jack bends her over and continues his invasion of her white pussy. As she's bent over, Alysha's blonde hair covers her face while her pussy gradually reduces to a hostile environment for any future white guys. Jack's black sausage makes her gape to the point where a bowling ball would fit in perfectly, however,the only thing her pussy wants is a hit load of Jack's love gravy. Alysha's pussy squeezes out every last drop of black cum until she's satisfied. This Christmas will see Santa Claus bringing Alysha Rylee that black baby she's always wanted.
There are times when we know that the white whore in our presence is going to go above and beyond the call of duty. Holly Michaels is just that girl. Holly went online and, after instant messaging her girlfriends, was informed of this glory hole where her friends went to do awful things. There was no turning back for Holly once she made up her mind that the glory hole is where she wanted to be. Holly ditched her white boyfriend and hopped, skipped and jumped to the adult book store for an encounter she'd never forget. The interracial porn on display got get pussy wet, but not completely soaked. Holly's surroundings gave her the courage to get naked and rub her body from those great tits to that dripping pussy. The real fun came when an anonymous black cock entered the party and Holly was down for some fun. holly Michael's washed that black cock with her mouth as her fingers rubbed that soaked love button. Holly threw caution to the wind as she sucked on that lucky black man's fingers before she face fucked herself on that enormous black dick. Holly's time in the booth reached a new level of sickness as she backed her ass on the wall. The condom in her purse? It was never used since it's reserved only for her white boyfriend (who never gets to feel her RAW), but she let the black stranger go bareback for this rare experience. Holly's love for that black cock saw her pussy nearly get town apart by the anonymous black cock. The only rest her pussy got was when she got on her knees and prayed for a huge load of black gravy. Needless to say, those prayer were answered.