Latest Updates from 'Blacks On Cougars' at Dogfart (Page 3)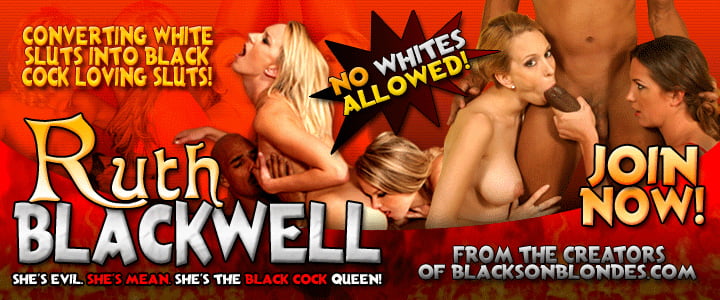 Karen Fisher is a self-proclaimed "black cock slut." Don't believe us? Ask anyone who was within earshot of Karen going around the bad part of the city looking for black meat. Karen's husband would rather spend late hours of the office instead of pleasing his buxom bride waiting anxiously at home. Shane Diesel was cruising around the neighborhood and Karen's screaming drowned out the hip hop blaring on his car's speakers. Once at his pad Karen voiced her displeasure with her husband's inadequacy in the bedroom. Shane's big, black cock was all this cougar needed and she was soon emulating the sluts in her husband's interracial porn collection. Karen's mouth soon houses one of the biggest black cocks in these United States. Shane wastes no time in feeling up this bored housewife. Karen's husband is most likely on his lunch break at the very moment his wife's tongue is slurping up and down Shane's ass. The intensity goes up another notch when Karen's pussy gets that much needed black cock she was ranting and raving about on the streets of L.A. Each thrust of Shane's cock into her pussy only made Ms. Fisher's tits shake and jiggle until they slapped against her chin. This interracial sex fiasco wouldn't be complete until Shane hit that shit from behind as Karen's massive jugs shook violently. The sweat coming from Karen Fisher's face, complete with increased heart rate, could only mean that her womanly needs were finally getting met. The last thing on the menu was for Shane to empty his fat , black sack all over Karen's face and tits a.k.a the melons that feed her babies.
A bad credit score isn't enough to deter Sienna West from getting filled with big, black cock. Rico's a starving student that needs a place of his own to hit the books in. Sienna West is hesitant to rent to someone without an established credit score but something can definitely get bartered. Sienna willingly forgoes the normal legal bullshit and takes Rico back to her place for some anal loving. After all, the tits popping from her tight shirt tells us that she's a super whorish milf. Sienna gets to her knees and rubs Rico's jeans until the bulge in his pants tells her that he's ready to make her gag on his black saber. Luckily Sienna can breathe through her nose since Rico's black cock leaves absolutely no room for oxygen in her mouth. The next step in Sienna West' abuse of power comes when her soaked pussy swallows Rico's entire black bazooka until his balls are nestled against her clit. Sienna's topnotch tits quake with each thrust of his pelvis against hers. The cream coming from her pussy drips into her ass which makes for perfect lube. Rico's gigantic black cock nearly splits his future landlord's ass in half as he goes balls deep. Sienna's screams nearly alert her other tenants as Rico's third leg nearly collapses her colon. Rico's security deposit comes in the form of an ass cream pie that shoots out like a geyser. Sienna's ruptured rectum is a small price to pay for a tenant that can give her miles of black cock over the term of the lease.
Eva Karerra left the slums of Belgium for the sunny skies of L.A. One afternoon finds her looking for business space but the rent is out of her budget. A true whore like Eva is always willing to barter her white ass for a price reduction. The landlord seems a bit nervous at Eva's obvious flirting but he's not one to give up a prime piece of this cougar. The lease comes in form of an oral agreement between Eva Karerra's mouth and a thunderous black cock. Forget the fact that the landlord could lose his license or that Eva isn't even wrapping a rubber on his beefy fuck stick; Eva is using every inch of her body to ride that black cock until she gets what she wants. That seasoned snatch wraps around his black cock as if it was the first one she's ever had. The sounds of flesh slapping flesh brings Eva to the point where her screams are bouncing off every wall in that joint. Eva's kills 2 birds with 1 stone since each time she slides down that black cock it's lowering her rent. The interracial sex/bartering encounter concludes when Eva's mouth becomes stickier than belgian waffles.