Latest Updates from 'Blacks On Blondes' at Dogfart (Page 18)


Spoiler alert: We are giving you Raven Bay's first EVER interracial scene. We catch Raven Bay and Jovan Jordan during an afternoon stroll where she informs Jovan that she wants something bigger than what he's packing......which in itself is a monstrosity. Raven and Jovan take things inside where he gets things going by fucking Raven's pretty little mouth. Raven's throat takes as much of Jovan's big black cock as possible until Jack Napier enters the fray. Jack does his damage behind the newbie to interracial porn as her face continues its work on Jovan's mighty meat. Both black swordsmen take turns rendering her pussy useless to anything other than black dick, can you see why? Raven rides Jack and Jovan all over a bed whose box spring gets tested to the point where the bed nearly collapses like a ton of brinks. Raven's interracial initiation comes to its dramatic conclusion when both big black cocks are drained of all their nourishment. We have a gut feeling that Raven's fun at The Dogfart Network has only just begun.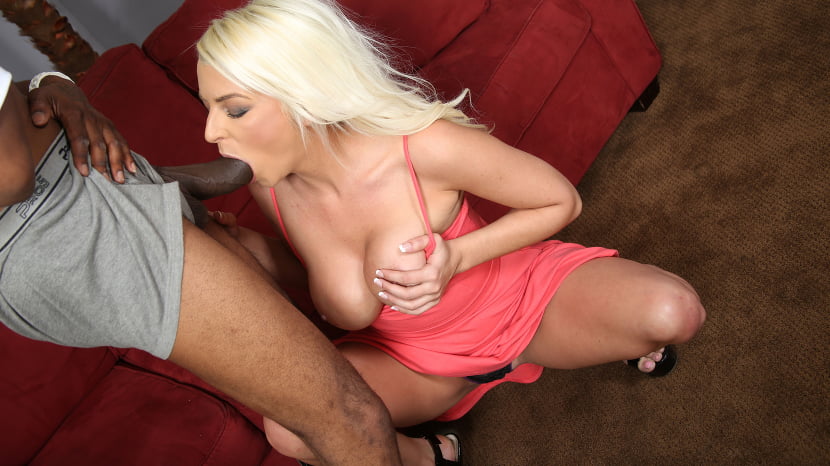 Kali Kavalli has always lived somewhat of a boring life. Work is dull and only matched in staleness by the lackluster love life she has with her guy. What can get her on the path to spiritual enlightenment? How about a big black cock courtesy of Charlie Mac? We get back inside and the black veteran of interracial porn locks lips with the nervous white slut. Kali uses that same mouth to work over her first black cock. Charlie can't wait to slam his black nightstick into that white pussy and that's exactly what he does. Kali's infidelity shines through when Charlie's big black cock invades her pussy and there's nothing her sissy boyfriend can do about that. That white pussy gets topped off with black cock in a manner that will leave her useless to white guys all over. It doesn't matter anymore. The minute Charlie deposits his ghetto gravy it's game over for Kali Kavalli and guys who aren't black.
Olivia Wilder's boyfriend made the dreaded mistake of fighting with her and leaving her high and dry in the wrong part of the city. Olivia's lack of funds has forced her to hitch a ride in a place where even the cops dare not enter. Charlie Mac and Moe The Monster decide to be good citizens and offer their help to the damsel in distress. Olivia accepts their offer to help and off they go for some fun at her boyfriend's expense. The heart-broken slut pays the black strangers back by offering up that mouth and pussy. Charlie and Moe aren't one to look a gift whore in the mouth, and we're off to the interracial races! Olivia goes back and forth on both big black cocks......her boyfriend would burn a cross if he knew what his woman was doing. Moe and Charlie take liberties with Olivia's mouth and pussy, and,of course, her moans can only signal that she's forgotten all about the dude who ditched her. Olivia's true sign of appreciation for those helpful black cocks is evident when she warmly welcomes all their black nutmeg. Who says there are no good people left in this world?