Latest Updates from 'Black Meat White Feet' at Dogfart (Page 3)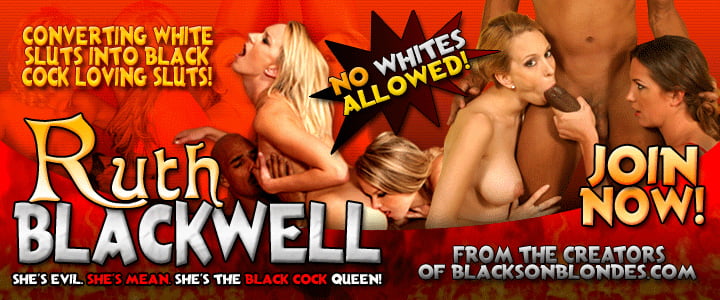 Black meat on my little white feet is enough to get my pussy gushing. I'm sorry if you white guys can't measure up, but, after all, you got the curse of a small cock and my feet need something big and meaty to rub up against. I had Rico Strong come over and play with my feet right before I felt his big blacks balls on my arches and toes. Does it make you jealous that his amazing black cock gets fucked by my feet as his continual worship gets me wetter and wetter? i bet it does. Baby, don't cry when Rico gets a great view of my ass while he stands behind me and fucks both sides of my feet like a white pussy. There's nothing you can do but watch as black foot cream pours all over my feet until there's nothing left in his balls. If you're a good boy you can come over and lick them all clean. If!
Like my feet? Fuck that. You know you LOVE my pretty, little feet and would do anything I say to just get near them. Wash my car, clean my house, basically, do anything and everything I want. I'd let you sniff them ONLY after they played with a big, black cock. Face it, white boy. You got nothing I want, but please watch Shane Diesel worship my feet right before fucking my arches. Watch as Shane, a real man, licks my feet and treats them in a manner you only dream about. I had Shane fuck my arches right after I rubbed his big, black nut sack. I could feel his black cock pulsating and I knew my ten little piggies were gonna get coated with his black jizz. Hey whitey, wanna come clean them up?
I normally don't fuck around with black guys. My white pussy just seems like it would tear in half. I get creamy for black cock but my pussy only welcomes tiny white cocks. My feet, however, loves to be played with just as much as my throbbing clit. The next best thing to getting fucked by big black cock , is having my feet do all the work. The mother-of-all-black-cocks , Shane Diesel, brought his slab of beef for my feet to manipulate. Shane worshiped my toes before sticking his big black redwood between my feet. Nothing could prepare me for the geyser of black goo that splattered my feet. An interracial footjob has now gotten me to rethink my stance of getting slammed by black cock.