Latest updates featuring Tricia Oaks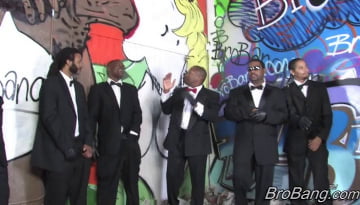 27th February
- I hope I look pretty enough to gain access to finely dressed black men with attitudes. I was born an interracial sex slut which makes it a problem whe
n you date white boys. My boyfriend is a bigot and he'd leave me in a second if he found out that my job hunt turned into a black cock hunt. I went into my closet, got the kinkiest looking thing I had, and couldn't get to the rough part of town fast enough. My long legs walked me into the middle of a sermon which focused on the most recent white man's evil ways. I wanted to get those black dicks nice and ready so I gave a little dance to each member of the Interracial Blowbang posse. I shoved my fat white ass in each and every available crotch while making sure neither of my hands were void of black dick. I could get in so much trouble for what I did but stuffing big black dick down my gullet is a favorite pastime of mine as well as any and all interracial sex I can get. Just sucking black dick wasn't enough to make me a happy white slut so I gave up the white pussy for all the black men to take. Being bent over that filthy trash can and getting the royal whore treatment is an experience that words can not describe. I also can't tell you what it was like to be under those black dick faucets as they shot jizz bombs all over my milky white face.
...Read More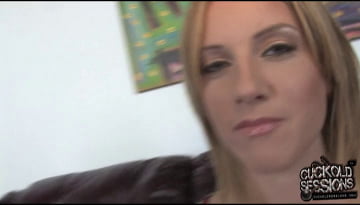 2nd July
- I must have been in an altered state when I met my boyfriend who resembles a beatnik or record store employee. Let's just call him " loser" for now. "
Loser and I have been going out for a while and his idea of date night is delivered pizza and video games. If I was your girlfriend then wouldn't you want to fuck me 24/7? Well, if you're white then it's impossible since you white guys rarely get hard. Anyways, I invited over three feet of black cock to come over before I had a nervous breakdown and killed "Loser". A girl has her needs, you know!? I sucked on those black snakes as if my life depended on it as "Loser" stood facing the corner since the sight of him would kill the mood. My body shook the moment the first black inches made their way into my white snatch and that was just the start! I couldn't believe I had been missing out on interracial sex the whole time my cuckold and I were together.....it kind of makes me depressed. I'm about to make up for lost time since I'm now a black cock slut and my I keep "Loser" around because paying my bills hasn't gone away.............much like his self-esteem. Watch as this fool cleans me off from black baby making juice with a grin going from ear to ear. I really think this cuckold is retarded.
...Read More