Latest updates featuring Tiffany Kohl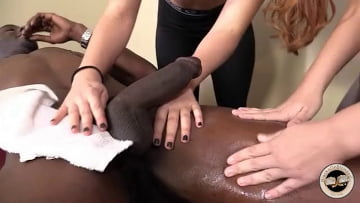 27th May
- Rose Red is an athletic trainer ,who, along with intern Tiffany Kohl, help athletes all over recover from a laundry list of injuries. Jason Brown is s
uch the athlete where he's in need of the healing hands of Tiffany and Rose. Jason's rehab begins when both ladies feel all over him....and that's the catalyst for what will be an amazing interracial threesome. Tiffany's shyness and reluctance to go further with their client is eventually diminished when her boss shows her the ropes. Jason's big black cock gets fought over by both therapists in a manner fitting for two black cock sluts. Rose leads her apprentice into the world of black cock worship until both of them get fucked all over the massage table. What would this scene be without both ladies taking turns lick each other's backdoor? The massive black cock in the room is never ignored, and Tiffany's face becomes the target for Jason's nutmeg. Rose, much like a good boss, wipes her clean with her tongue.
...Read More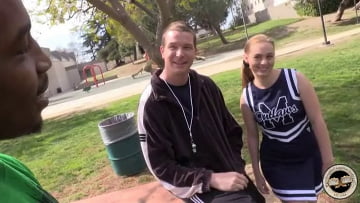 18th May
- Warning: The following update is beyond fucked up. We begin our fun with Tiffany Kohl doing some recruiting for her father's basketball team. Isiah, t
he top baller of the city, is being looked at by other colleges, and Tiffany's father would certainly reach a God-like status if he could convince Isiah to play for him. How can he wrangle a future NBA player? The answer is simple--Tiffany Kohl's the bait for the black man's love of white girls. Tiffany's dad makes the introduction and it's not too long before daddy's girl earns her way into his will by sucking and fucking Isiah....right in front of him! Isiah's big black cock turns Mr. Kohl's daughter's pussy into a cavern for dark meat. Mr. Kohl's little girl goes the extra mile by getting fucked all over the place until Isiah's black gravy covers her face. Who's happier than her? That can only be her dad who has now acquired his star player.....thanks to his angel's white pussy.
...Read More