Latest updates featuring Tara Holiday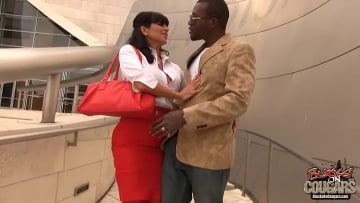 4th September
- Tara Holiday is as rich as she is beautiful. Tara's out and about with Moe The Monster and she's showing him a good time. Clothes, rent, shopping , et
c....it's all on Tara's tab as long as Moe keeps supplying that big black cock of his. Tara takes Moe back to the crib and it's on! Moe and Tara tear at each other with gusto normally reserved for wild animals. Tara drops on her knees and sucks down a cock that's dwarfs any cock she got back home in Chile. Moe's freakishly large black cock takes its toll on the foreign cougar's throat. Tara Holiday's pussy is next on Moe's "to do" list and that's what he does. Moe shows no letting up as he destroys that cougar's cunt. The sugar momma rides that black bull as her screaming nearly cracks the expensive sunglasses she just bought him. Tara's ordeal comes to an end when Moe's monster spits out a hefty helping of ghetto goo down her throat.
...Read More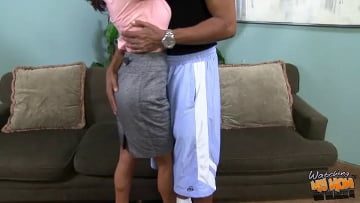 10th May
- Tara Holiday is using whatever free time she has to indulge in some big black cock. Tara Holiday has snuck Jack Napier into the house she shares with
her husband and daughter, Chastity Lynn. Chastity gets a phone call that triggers her heart to beat rapidly and she's running home to see why there's a black man on her family's property. Tara Holiday is too busy sucking Jack Napier's monstrous black cock to realize that her daughter is looking on. The baseball bat in Chastity's hands are now rubbing against her pussy instead of being slamed against the black intruder's head. Tara Holiday somehow convinces her daughter to participate in some good old fashioned sucking of big black cock. Our story is only starting at this part and it isn't long before mother and daughter are feeling big black cock between their pussy lips. Mom and daughter fight over Jack Napier's enormous black fuck stick and Tara Holiday's pussy gets a taste of what her husband could never, ever provide in a million years. Chastity Lynn sucks her mother's juices off that big black cock before experiencing for herself the power of black dick. The mere sight of her mom acting like a whore excites Chastity to the point where she has that baseball bat slowly sliding in her pink pussy. Forget the fact that it was just a few years ago that Chastity was getting baby-wiped by Tara Holiday. Forget the fact that Tara Holiday won't win Mother Of The Year anytime soon. All you need to know is that these two white sluts got sucked, fucked and drained Jack Napier's black torpedo until mom's pussy was filled with thug juice. Tara's husband, and Chastity's father is in for the shock of his life sometime around February of next year.
...Read More