Latest updates featuring Sindee Jennings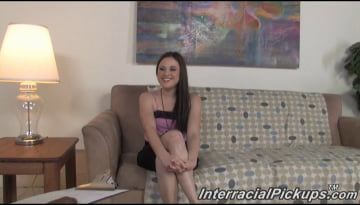 5th January
- My ride was in the shop which meant the white bitches would be coming to me. Sindee Jennings got the impression that I was an agent for mainstream mod
eling which was a downright lie. I was only casting for my private collection of interracial porn. Initially Sindee was reluctant which I found funny because she's fucked on camera before. She's one of these white girls who want to go on to other things. Sindee went on and on about wanting to model bikinis or something like that. I wasn't too sure because my mind was too busy thinking of how I could get her fucking on camera at least once more. I spilled some game to her and it wasn't too long before she was showing me that bomb ass body. I told her this video interview would be for my own collection but, as you can see, that wouldn't be the case. Anyways, Sindee Jennings showed me her goods and wasted no time in gobbling my big black cock until my balls smacked her chin. I could tell right away that she hadn't lost her slutty ways when she sucked and jerked my big black cock while her beautiful eyes locked in on me. Sindee's mouth felt great which meant her pussy must be off the chain! My newest addition to my collection bent over and slid my entire black baloney deep inside that wet pussy. Sindee rode down my black shaft as if it were a fire pole and her screaming nearly caused me to lose my hearing. The bitch managed to squirt seconds after my cock was in her and I just had to keep pounding that honey pot. She got face down and ass up when I fucked her from behind. The image of her beautiful ass stretching as her pussy was getting drilled will be burned in my head forever. We ended our interracial fuck time when my country gravy made the journey from my balls, through my 12 inches and deep inside Sindee's birth canal. I better change my cell number..........just in case.
...Read More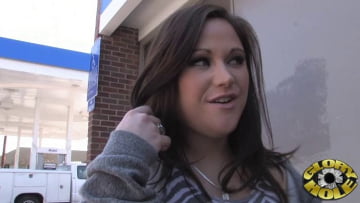 9th September
- Some girls were born to become black cock sluts. Sindee Jennings waited until she was old enough to have her first interracial sex encounter....in a b
athroom ,nonetheless. Sindee took the bus to this gas station where white girls leave with a check mark in their black cock box. Sindee's stunning body attracted the attention of some African male who secretly followed her inside. He waited to strike after Sindee got comfortable and finished off a few intense orgasms. He risked losing his black pipe when he stuck it through the gloryhole and Sindee's inner whore truly shined through. Sindee dropped to the floor and hoovered that black cock as if it shot out winning lotto numbers. She sucked and jerked that monstrosity until her dripping pussy was next on the menu. Sindee turned around and offered up her white pussy in order to satisfy evasive black pecker. An insatiable appetite lead her pussy to take in every inch of that mighty black member. The approaching footsteps meant that Sindee had to steer a thick load of black batter down her gullet.
...Read More