Latest updates featuring Simone Sonay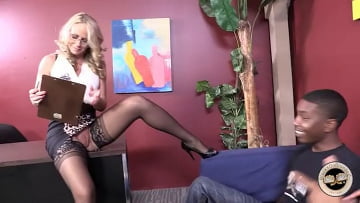 5th April
- Simone Sonay is the woman and charge and she's got her mind in the gutter during the interview process with Jovan Jordan and Isiah Maxwell. Both young
black guys are interviewing for the same job, this is where the dilemma comes in. Simone's the married slut in charge of hiring someone for a vacant spot- what's she to do? Inappropriate question after inappropriate question lead both guys into discovering that Simone is abusing her power. Before you can say "Sexual Harassment Lawsuit", Simone is sucking on both young black dicks as her husband is none the wiser. The cheating wife's office is the spot where her infidelity is as evident as the hard black cocks poking all of her sweet fuck holes. Simone Sonay's ass and pussy get invaded at the same time as her screams nearly alarms anyone within a one mile radius. The unfaithful wife continues to use her power to her advantage until both ends of her body are splattered with black gunk. That face and pussy belong to a cheater of the highest caliber.
...Read More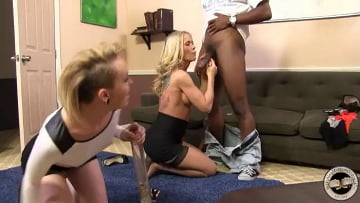 11th December
- Mother and daughter have both leading deviant lifestyles and they're about to come to an intense melting point. Simone Sonay and her daughter, Miley M
ay, have no idea that the other is living life on the edge. Simone is cheating on her husband and Miley's skipping class to fuck her boyfriend. Simone and Jack are making out when Miley May tries sneaking in to swipe a bong to use with her boyfriend. Simone catches her daughter in the act....what's the next logical course of action? Simone and Miley mend fences by sharing Jack's big black cock while Mileys father/Simone's husband is none the wiser. Two generations of black cock slut work over that big black cock and in a frenzy that borders on insanity. Miley and Simone forget their family feud by sucking down a black cock that's more than their gag reflexes will allow. Simone shows her daughter the proper method of taking 12 inches of black meat in the same place that Miley spent 9 months in. We're treated to both ladies getting plowed by Jack's big sausage and Simone shows her daughter that squirting isn't something to be ashamed of-it's to be rewarded. The taboo threesome has its curtain call mom and daughter share a hefty helping of black jizz all over their faces. The family that shares black cock together apparently stays together.
...Read More