Latest updates featuring Sammy Grand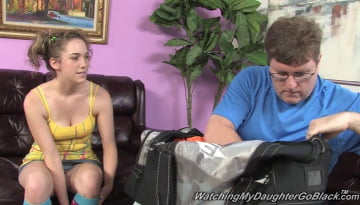 9th September
- Dad must be going into the early stages of Alzheimer's Disease since he never pays attention to what I'm saying. I stopped him dead in his tracks when
I told him my new boyfriend was black and that he was packing over a foot of cock. Dad must have grown up in the 60's during segregation and still has that mentality. He was livid but I made up my mind to let daddy watch me as I attacked my man's meaty python. I could barely wrap my lips around a black dick which must have invaded tons of white holes. I nearly got lockjaw so decided to spread my pink lips open for his black hose. Dad nearly passed out as my screams and moans shook every wall in the house. I new my pussy would never be the same and could never take white dick in the future but that's fine with me. What was also fine was my love for taking his sticky goodness all over my face and some even managed to get in my mouth. Dad still hasn't accepted my black boyfriend but I have a feeling he'll one day have to accept a black grandson or girl.
...Read More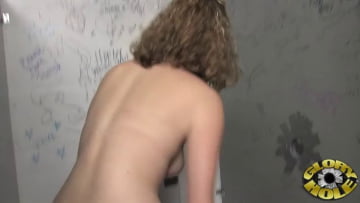 15th September
- Brooklyn Chase's husband has no idea that his woman is as unfaithful as they come. Brooklyn's husband has dropped her off to use the restroom, and, we
ll, her need for real dick overtakes her need to drain her bladder. Brooklyn's encounter with an anonymous black cock comes when her husband's car engine is still running. Brooklyn reminds the nameless black cock that her time is limited , seeing as how her husband could potentially walk in and fuck things up. Brooklyn Chase sucks on that anonymous black cock right before her smokin' hot body rides the gloryhole wall. Brooklyn's amazing tits shake and rock as her married pussy gets beaten by a lucky black guy. A shot of cum to the face is off the table since her husband will know something was going on as her listened to his car radio. A cream pie will suffice.
...Read More