Latest updates featuring Riley Shy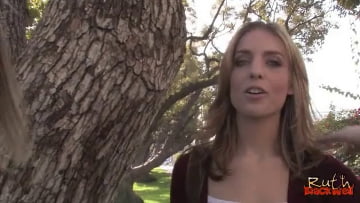 3rd April
- Riley certainly is shy when it comes to the power of black dick. She's used to getting fucked by white boys. When I say "fuck" I mean it like she get'
s a limp cock which stays hard for 20 seconds...if she's lucky and that's about it. I'm about to do my good deed for the day by introducing her to one of my black fuck buddies, Jason Brown, whose always ready to tear apart some white pussy. She heard the rumors of black cock being nothing but huge and nearly fainted when she gazed at one in living color. We both took turns playing with that 12 inch shaft and I could see I would have another black cock convert in the making. She had a little trouble accepting black dick since her boyfriends never felt the sides of her pussy as they'd stick their flacid cocks inside. We were both under a shower of black cum and she hasn't gone back to white dick since this encounter.
...Read More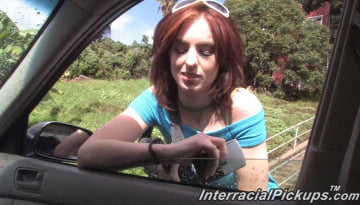 15th September
- Riley Shy lived up to her name.....at first. Thie red headed teen looked a bit lost in the wrong side of the track so it was my duty to scope things o
ut. She was wating for a ride and I was waiting to se ehow long it would be before she got down and dirty under my lights. She was already annoyed at being stranded so I had to be careful not to scare her off. Once my game got her entry into my car it would just be a matter of time before my lies got her to my place, naked, playing with herself, and then playing with me. Like a lot of girls who do porn she would be regretful if video of her ever got out. It would be a double whammy if her friends and relatives saw her sucking and fucking the forbidden black cock. I hate that double standard with interracial sex and interracial porn so making my own was a no-brainer. You can see the sweat from nerves on her forehead but that wouldn't last long at all. Once she got a glimpse of my big black cock then she just had to have it down her throat even with my camera capturing the evidence of this black cock slut in action. Her pussy was off the hook and it's a good thing I let her initially put it in herself or else I would have jammed it in her and an E.R visit would have been likely.
...Read More