Latest updates featuring Lux Play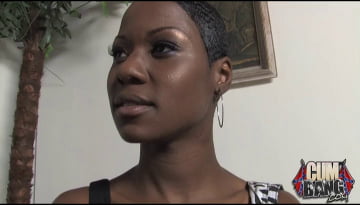 5th January
- Raekwon's new name is Mud. He's been caught red-handed with his finger...and black dick in the white girl cookie jar. His fun ride is about to come to
a screeching halt as his girlfriend, Lux, has revenge on her mind but has trouble figuring out which route to go. She's heard of a secret society in where black girls go to right the wrongs and a meeting with suber Redneck , Rod Fontana, was ordered. He listened to her sob story and turned lemons into lemonade by suggesting that going the way of "Don't get mad ,get even" would be in her best interest as well as the interests of 8 white guys with gallons of jizz to donate to the cause. She got dressed in clothes that leave nothing to the imagination and went down the line of white boys sucking all cocks that were served up to her. Multitasking is also one of her talents as her hands stroke white meat poles while her mouth slimes every cock in a 50 foot radius. Today's festivities wouldn't be complete until this ebony slut bent over, and gave up the black pussy which kept 8 white boys smiling from ear to ear. Somewhere under all that white goo is the satisfied face of a black girl who has crossed over into the world of 100% strictly white cock.
...Read More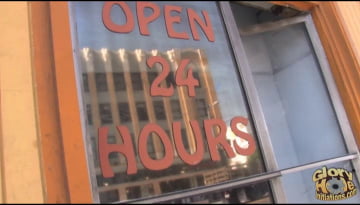 9th September
- You kind of wonder about the mindset of a girl like Lux Play. She's pretty enough to grace the cover of any given magazine. She's hot enough to walk a
runway, yet she's using her pretty looks to do some pretty indecent things and we've got it all on camera. She's in the local adult video store looking to rent the best in interracial video whether it be Cumbang or Blacks On Blondes and chooses to watch them there rather than the privacy of her own home. It turns out this decision will be one she won't ever regret. As she's fingering her black snatch with vigor she's met by a white cock which coincidentally is the first one she's seen in person. She teases white boy by liking his fingers before taking his cock deep in her mouth. She nearly passes out from her inability to breathe through her nose which makes it that much hotter. She could have packed up her things and left right after that but she has enough time left on the booth rental so she made the choice to take him in her black slit. The screams coming from that booth must have made other patrons in the place think she was watching the tv too loud, but it was her ebony frame that was getting a pounding. With seconds left she drained his cock all over her mug and didn't let a drop hit the floor of booth that now has an interesting story to go along with it.
...Read More