Latest updates featuring Leilani Leeane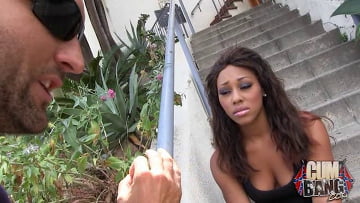 21st November
- It appears as if divine intervention has just come crashing into Leilani Leeane's crumbling world. Leilani's lesbian lover has cheated on her with a p
iece of white fish and Leilani Leeanne can't comprehend the insult. Eric Swiss is trying to console Leilani but her head isn't in the right place. It looks as if the only way our of her emotional dilemma is to get her head in the right place.....with nearly a dozen cocks surrounding her. Leilani has never contemplated going strictly dickly but drastic times call for drastic measures. The confederate coalition has offered her about nine feet of white cock which makes for an interracial suck-a-thon. Leilani's initial hesitation fades away like her face in some other whore's muff. Leilani sucks and chokes on any and all available rednecks in the area and her days of going meatless are over. The risk of lockjaw increases with each passing minute that a white cock is taking up residency in her mouth. The icing on the cake comes when billions of redneck children get splashed on Leilani's ebony face. This blowbang turns out to be cheaper and quicker than any shrink's couch. The downside? Leilani's girlfriend is gonna smell the stench of a trailer park the next time she tries to kiss her.
...Read More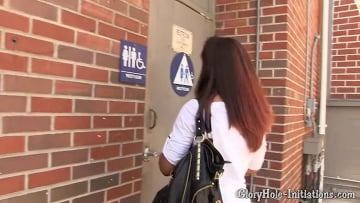 21st November
- Leilani Leeane is old enough to know bettter than to venture to the wrong side of the city. Leilani's smartphone has lead her to this public restroom
where a janitor's mop is desperately needed. The tagging on the walls is proof positive that Leilani might just be in over her head. However, that's not stopping her from shedding all her clothing to reveal an ebony frame that can instigate white boys to do the unthinkable. The glory hole's appeal is seclusion of the place and the hole in the wall that now has a gigantic white cock poking through it. Leilani's blow job skills get put on display as her taste buds feel that white flesh slide down her throat. Leilani's nostrils flare up as she's forced to breathe through her mouth as a white python takes up temporary residence in her throat. The fact of the matter is Leilani Leeanee could exit this restroom and her place in "Super Whoredom" would be solidified. Then again, she just has to feel her first white cock deep inside her fuck pipe. Leliani's bare ass touches the cold metal behind her as she backs up on a wall that has a huge, white appendage. Leilani keeps grinding on that bg, white cock until her knees give out from under her. What's left for her to do? Just watch as Leilani gets fed some milky white nut sauce. Interracial porn doesn't get any filthier.
...Read More