Latest updates featuring Laela Pryce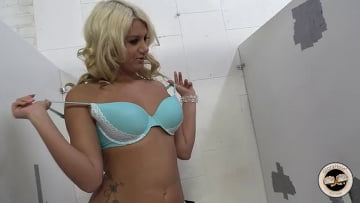 5th February
- Laela Pryce must have been the inspiration for every song written about cheaters. Why is that so? Well, Laela's boyfriend has reason to believe that h
is woman's cheating way are, in fact, as real as real can be. Laela's phone continues to blow up as she enters a public restroom that should have been demolished long ago. Laela's boyfriend continues to flood his woman's phone with calls even as she's sucking down the random big black cock via the glory hole. The fat tittied, big booty blonde works her oral skills on the luckiest black cock in the hood. How could this encounter with the cheating blonde get any better? How about Laela backing that beautiful ass against the wall and riding him without anything coming between them except a wall? The random big black cock does its damage to Laela's pussy until he hoses her face down with his glory hole goo.
...Read More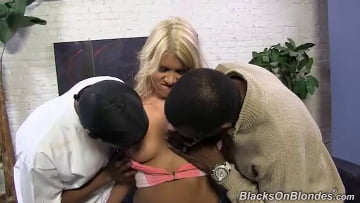 26th June
- Spolier Alert: This is Laela Pryce's FIRST EVER Interracial! Laela Pryce is in the middle of telling Charlie Mac And Moe The Monster about her love fo
r black cock...despite the fact she hasn't fucked any on camera until today! Charlie and Moe know a good thing when they see it. We take things indoor where Laela unleashes her true inner slut. Laela's love for black cock is the real deal as she goes back and forth, sucking on both black monstrosities before her. This white girl's first interracial wouldn't be complete unless she got the life fucked out of her. Charlie and Moe take turns beating that pussy into a state of near devastation. The lungs on Laela nearly cave in as her gasps for air get heavier and stronger with each thrust of black cock inside her. Laela Pryce ends this milestone when Charlie and Moe empty their black sacks for her Laela's ready face. Who said the popshots have to be the end of this scene? This shit is off the chain!
...Read More