Latest updates featuring Kristina Rose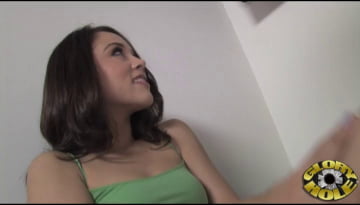 21st November
- Local Adult Bookstores are about to see a huge increase in customers after word gets out about Kristina Rose' lewd behavior. The white girl with an on
ion booty has left her flaccid boyfriend at home in favor for the glory hole. Kristina heard from friends that this Adult Arcade is where black cocks do their damage on unsuspecting white girls. The booth rental was paid and Kristina's retinas took in the most perverse in interracial sex until a real life black cock interrupted her viewing session. You can hear Kristina's heart stop momentarily before she drops to the floor and worships that meaty, black cock. The tip of the stranger's black cock eventually disappears down her discerning palate. The fun only gets going when Kristina's tight box gets stretched open like the jaws of life. The sweat running down her back can only mean that her ass prints are going to stain the filthy walls. Each pelvic thrust Kristina Rose endures brings the secluded black man closer to the point of no return with his rocket blast of goo. Kristina Rose' face is the end result of a glory hole visit that ended with empty black testicles and a very satisfied white girl.
...Read More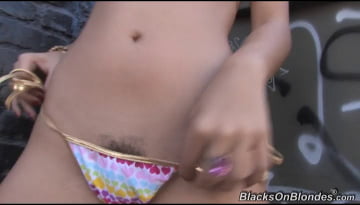 5th January
- This weeks recipient of a black cock drilling is Kristina Rose. She starts off the festivities by shaking her money maker outside for all to see. Her
bodacious booty is barely covered by a very fortunate bikini. After seeking the safety of the indoors Kristina uses a variety of toys to stretch her sphincter in hopes that it can accommodate Flash Brown's mammoth chorizo. Kristina's mouth plays host to Flash's cock as her esophagus pays the price in order for Kristina Rose to have her fill of interracial sex. Her pussy self lubricates which helps when Flash rams her with his black cannon. Kristina's screams of joy are equal in pitch as the balls slapping against her pink taco. Her pussy juices drip over to her backdoor which might as well have a sign over it saying "For big black cock only!" Every inch of black dick that gains entry into her asshole is met with moaning and groaning that takes Kristina's body into a world of pure pleasure. Her gaping bunghole may never go back to its original shape after getting plowed by the biggest cock she's ever gone to task with. Kristina's open mouth gets completely bombarded with Flash's testicular tartar sauce which she gladly gulps down.
...Read More